| | |
| --- | --- |
| HS Code | Product Name |
| 8544 | Insulated wire, cable & other insulated electric conductors; optical fibre cables, made up of,hort called "lectric Wire & Cable"s follow |
China Electric Wire & Cable Export Volume and Value from Jan. to Jun. 2013
Month

Volume(g)

Value(SD)

Compared with the same period of last year


Volume

Value

Jan

169,858,711

1,516,407,273

11.4%

17.9%

Feb

124,466,013

1,208,242,522

17.6%

17.5%

Mar

154,358,015

1,502,322,529

-10.1%

0.6%

Apr

171,319,893

1,588,271,931

3.7%

11.2%

May

177,588,777

1,615,026,686

-0.9%

6%

Jun

165,825,477

1,519,442,199

-1.5%

4%

Total

963,416,886

8,949,713,140

2.2%

8.9%
From Jan. to Jun. of 2013, the China Electric Wire & Cable export volume reached 963,417 tons, which increased 2.2% as before; and export value reached $ 8.95 billion, which increased 8.9% as before.
Mainly China Electric Wire & Cable Export Countries & Regions from Jan. to Jun. 2013
No.

Country/Region

Volume(g)

Value(SD)

Compared with the same period of last year


Volume

Value

1

HK

96,356,700

1,677,665,365

-3.3%

38%

2

USA

153,502,726

1,394,226,639

8.6%

14.1%

3

Japan

56,384,146

1,181,671,537

-6.2%

-8.3%

4

Korea

62,088,505

724,176,656

-5.4%

2.8%

5

Australia

40,567,852

257,222,656

14.8%

11.4%

6

Singapore

25,672,494

199,101,292

15.3%

9.4%

7

Malaysia

21,361,210

189,624,245

47.9%

66.6%

8

Thailand

28,496,000

181,599,029

6%

14.2%

9

Indonesia

27,136,957

176,965,649

7.7%

8.9%

10

Germany

21,587,648

169,214,021

-9.1%

-4.9%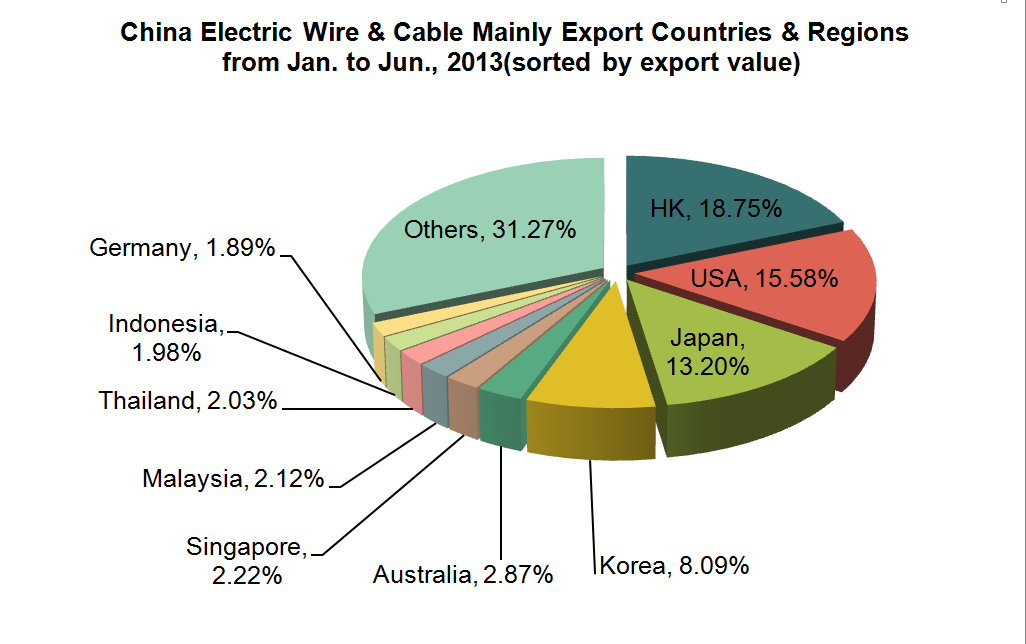 From Jan. to Jun. 2013, the China electric wire & cable exports to Malaysia increased 47.9% for volume and 66.6% for value compared the same period of 2012, which is the biggest one at the top ten countries.
Mainly China Electric Wire & Cable Delivered Places from Jan. to Jun. 2013
Province

Volume(g)

Value(SD)

Compared with the same period of last year


Volume

Value

Guangdong

286,868,646

3,591,373,103

-2.5%

15.7%

Zhejiang

265,662,730

1,300,629,712

1.4%

1.2%

Jiangsu

151,376,679

1,289,877,122

9.3%

5.4%

Shandong

76,618,506

857,783,081

2.7%

3.7%

Shanghai

44,180,954

508,820,344

11.1%

5.8%
From Jan. to Jun. 2013, as the biggest export province, Guangdong took 29.78% of whole China export volume, and 40.13% of whole China export value. Zhejiang is next, which took 27.58% for export volume and 14.53% for export value.

It is worth paying attention that Jiangsu Kunshan electric cable and wire export value reached over $ 300 million at the first half of 2013.
The production of Kunshan electric cable & wire reached $ 0.336 billion, which increased 8.63% compared with the same period of last year. Although as a supporting industries only, but electric wire and cable industry occupies a Chinese electrical industry output value of 1/4.It has many types of products and wide range of applications, involving electricity, construction, communications, manufacturing and other industries, also related to various sectors of the economy. Electric wire and cable is also known as the "artery" and "nervous" of national economy, which is to be used for transporting electricity, transmission of information and manufacturing all kinds of motors, instruments, meters, and electromagnetic energy conversion indispensable basic equipment, also is the necessary basis product for electrification and information society.
Although facing with the continued appreciation of the RMB, more than the traditional economic powerhouses of weak demand, and rising domestic labor costs and other adverse conditions since 2013, but Kunshan electric wire & cable industry relies on IT industry developed Yangtze River Delta region, with its complete upstream and downstream industry chain and human resource advantage to constant innovation, increase the added value of products , reduce the proportion of labor costs in product costs and optimize production processes, that is why parties to achieve such impressive results in fierce competition. Most enterprises have obtained the ISO9001 quality management system certification. Among of them, four companies' test laboratories have gained testing laboratories accredited qualification from the highest level of China National Accreditation Board for Conformity Assessment.
Good quality control for enterprises is helpful to gain orders from Apple, Samsung, Lenovo, HP and other world-renowned manufacturers, while the well-known IT vendors stringent requirements on product quality is helpful to enhance the quality of enterprise management level.
Data Source: China Custom
Source:
IAR Team from Made-in-China.com