North American custom and stock plastic packaging manufacturer Placon has launched new Crystal Seal reFresh PET packaging containers line.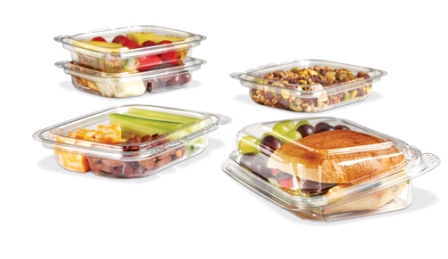 The new line of tamper-evident, recycled PET thermoformed food containers are suitable for fresh cut fruit and vegetables, sandwiches, cookies and single slices of pie.
Featuring eight sizes, the reFresh product line can be used in various configurations with multiple food combinations for versatility in merchandising, according to the company.
The FDA food-grade, 100% recyclable plastic food containers are said to be made from curbside collected plastic bottles and thermoforms that contain up to 100% post-consumer content.
Placon noted that the ultra-clear containers include portion-sized, multi-compartment packaging along with containers perfect for half sandwiches, hoagies and pre-packaged fresh meals.
The new line also features leak-resistant design, tight seals and tabs, which are made for easy opening and closing, and combines numerous features from unobstructed views of the product and material that cuts down environmental waste.
The company also introduced nine new sizes of packaging to its Crystal Seal Hinged Deli, Tamper-Evident and Fresh 'n Clear Catering lines, in addition to the new line.
Placon stock products sales director Jeff Lucash said the new line is made with the company's EcoStar PET that contains recycled plastic.
"The containers are tamper-evident which helps assure consumers the package hasn't been tampered with, and after use, the food containers can simply be tossed into recycling bins to be sorted, washed and reused again and again," Lucash added.
Image: All reFresh containers are made with EcoStar food-grade recycled PET. Photo: Courtesy of Placon.
Source:
http://pet.packaging-business-review.com/news/placon-introduces-new-pet-thermoformed-containers-line-210514-4273369