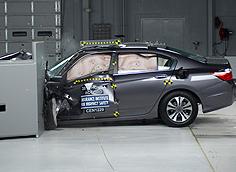 Proving paying more doesn't automatically equate to safer,some midsized cars do better than luxury models in the new frontal offset crash test conducted by the Insurance Institute for Highway Safety(IIHS).
Of the 18 sedans tested in the latest group,two earned the top rating of Good,11 were Acceptable,three Marginal,and two Poor.
Over the summer,the Institute first evaluated midsized luxury sedans with its new small overlap test.Despite the prestige brand represented,only three out of 11 models earned Good or Acceptable ratings.
The small overlap test was added to the organization's regimen in 2012 to drive further improvements in occupant protection.The test replicates a crash in which 25 percent of the driver side front corner of a car hits an immovable object,such as a tree or a pole.In the test,a vehicle strikes a 5-foot-tall rigid barrier going 40 mph.
The Honda Accord sedan and Suzuki Kizashi both earn a Good rating in this round of testing.
In rank order,the Ford Fusion,Honda Accord coupe,Kia Optima,Nissan Altima,Nissan Maxima,Subaru Legacy,Subaru Outback,Dodge Avenger,Chrysler 200,Mazda6,and Volkswagen Passat earn Acceptable ratings.
The Hyundai Sonata,Chevrolet Malibu,and Volkswagen Jetta sedan earn a Marginal rating,and the Toyota Camry and Prius V earn Poor.
To reward good performers,the IIHS has now added a"+"to the Top Safety Pick award for those models that earn a Good or Acceptable in this rigorous,new test.To qualify for a Top Safety Pick,a vehicle must earn Good ratings in at least four out of five of their tests,which include the moderate and small front overlap crash,side impact,rollover,and evaluations of seat and head restraints to protect occupants from neck injuries in rear impacts.(See which vehicles earn the Top Safety Pick award for 2013.)
Manufacturers typically engineer their vehicles to perform well in the IIHS tests,enabling the influential safety organization to push industry to make changes that benefit occupant protection.It will take time for automakers to catch up with the requirements for this test,leading to the mixed results from the initial test batches.But already,we see cars like the 2013 Honda Accord proving that it is feasible to perform well in a diverse range of tests.
Because of this new protocol,Ford and Nissan made structural changes to new models,and Subaru and Volkswagen changed their air bag controls to improve head protection.
Incidentally,the Accord also excels in Consumer Reports recent road test.
Source:
http://news.consumerreports.org/cars/2012/12/new-iihs-crash-tests-finds-some-family-cars-outperform-luxury-models.html#comments