Amazon has released the latest software update for its Android-based tablet line.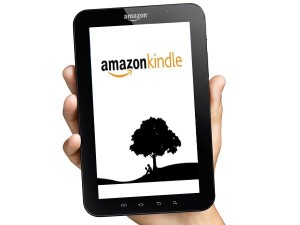 Fire OS 3.1 begins rolling out Monday to Kindle Fire HD and Fire HDX devices, bringing with it a few new features, like enterprise support and wireless printing. The update also beefs up the last-generation Kindle Fire HD with some of the HDX's marquee features.
For Amazon to make its tablets a be-all, end-all device for consumers, it needed to cater to the business crowd, too. The device now includes better enterprise support with features like the ability to connect to secure Wi-Fi networks and log on to a corporate network via VPN. Fire OS 3.1 also supports Kerberos authentication for more secure browsing of your company's internal Intranet through the Silk browser, as well as a Kindle-specific device management API to make life easier on your IT department.
Amazon aims to be more friendly with the integrated Goodreads social network for book lovers. The service lets you connect with friends to share things like your favorite quotes, what you're currently reading, and what you thought of the books you've read. You can also import every book you've ever bought or read through Amazon into your Goodreads account and sign up for a daily or weekly newsletter that offers suggestions on what's new to read in your favorite genres.
The Second Screen feature is now supported for the older Kindle Fire HD. Second Screen lets you "fling" movies from your Kindle to your television set through supported third-party devices. Amazon says that the feature is meant to free up your device so that you can use it for apps like X-Ray or browsing the Web – a definite ploy to get you to always use the device when you're thinking of entertainment in your living room. The feature is currently limited to the PlayStation 3 and compatible Samsung TVs, though Amazon says that it will be available later this year for the newly-released PlayStation 4.
Other miscellaneous features in Fire OS 3.1 include wireless printing and voice dictation to convert your speech into text. Voice dictation is available in all languages when you're connected to a network, though only English is available offline.
If many of the new features sound familiar, that's because Amazon is taking a page out of the iOS/Android playbook to make its tablet lineup more attractive to those who want something more than just a content consumption device. You can pick up the update by heading into the Settings panel, Device, and then checking to see if there is a System update available, or by visiting Amazon's official software updates page.
Source:
http://www.cnmeonline.com/news/amazon-releases-new-tablet-software-update/