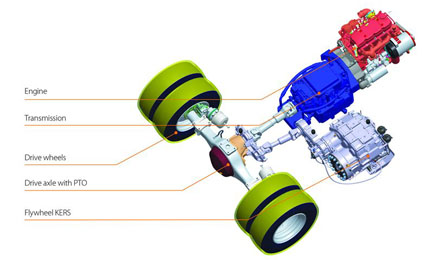 A bus fitted with a Kinetic Recovery System (KERS) has entered full service trial in Kent as part of a research and development project to explore fuel saving technologies.
The Wrightbus vehicle is fitted with a flywheel KERS unit, which utilises Flybrid technology, has been developed in a collaborative project with project partners Arriva, Productiv, Voith Turbo and Torotrak and co-funded by a funding award of £698,000 from Innovate UK, the UK's innovation agency. The aim of the project is to explore the potential of harvesting kinetic energy from vehicle braking systems, with a view to introducing the technology to the Wrightbus model range.
The Flybrid system uses a high speed flywheel to capture kinetic energy when the bus is decelerating. This stored energy is then transferred mechanically back to the wheels and used to accelerate the vehicle, offering potentially significant fuel savings by reducing the engine power that is required to accelerate.
The unit itself is fitted parallel to the transmission on the driveline and is linked to the rear axle by means of an additional prop shaft. The adoption of the flywheel technology has included work on both engineering and software integration, with extensive support from Flybrid technology developers, Torotrak.
The first phase of the project has already included an extensive programme of testing, including accelerated durability testing of the production specification flywheels which have already survived over 1,000,000km. In the current project phase - in service trials with bus operator Arriva - the day to day reliability of the technology on a route in Gillingham, Kent, will be tested on the prototype vehicle to confirm both its operational potential and commercial viability.
Brian Maybin, Wrights Group engineering director, said: "We, along with our partners, have been working hard on this project for nearly two years now and we are excited to see the product in service with Arriva.
"Results have been very encouraging, with test track assessments confirming our predictions that the Flybrid system offers operator payback within five years."
Source:
http://www.imeche.org/news/engineering/flywheel-kers-bus-enters-service-in-kent-1