Robert van Embricqs wins A' Design Award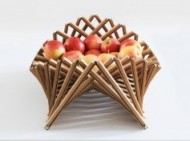 Multiple award-winning Dutch designer Robert van Embricqs has added one more laurel to his name. The Rising Shell Transforming Bowl – Embricqs' latest addition to his very successful Rising line – has been awarded the Silver A' Design Award in Bakeware, Tableware, Drinkware and Cookware Design Category, 2015 – 2016.
The A' Design Awards are the world's most influential and largest design awards, presented each year in Italy. The grand jury panel of the A' Design Award & Competition consists of internationally influential press members, established designers, leading academics and prominent entrepreneurs.
The Rising Shell is a bowl that has the function to carry small objects in an organic shape. This piece can be opened and rise up like a budding flower when it's needed. If the Shell isn't being used, it can be seamlessly folded back. This creates an unique interaction between the material and the end user.
On winning the Silver A' Design Award, Embricqs said, "It is a great honour for me to receive this prestigious award and I would like to thank all of my friends and partners for their support and help along the way!"
Source:
http://www.furniture-magazine.com/news/article/robert-van-embricqs-wins-design-award/