Walker Zanger, one of the world's most comprehensive stone and tile company, is bringing the Sketchbook collection at the International Contemporary Furniture Fair (ICFF) from May 14 to 17. The new collection fuses mid-century modern with organic-inspired paint strokes.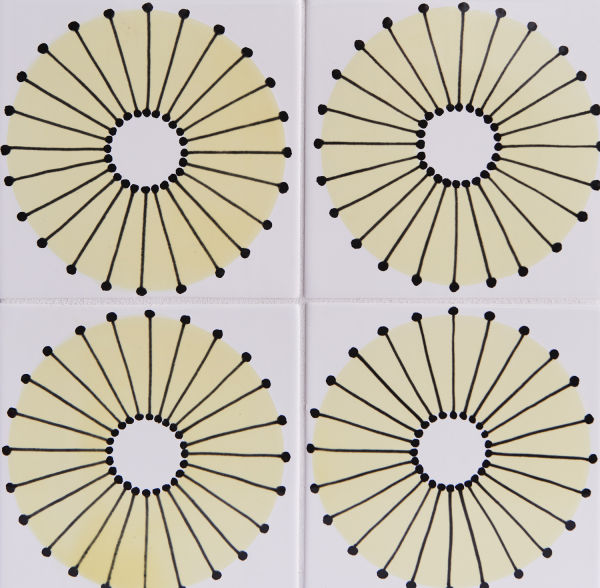 The mid-century modern aesthetic blends bold color and clean lines with bright graphics and minimalism. Combined with organic inspiration, artisans bring the new Sketchbook collection to life with unique paint-strokes in every tile.
Carefully hand-painted, the bold black lines in the new collection reflect the work of the artisans who create them. Each individual tile is a work of art, as evidenced by the slight variations that are clear in the stroke and thickness of the lines. No two tiles are exactly alike, giving homeowners a personalized design that cannot be replicated anywhere else.
Jared Becker, Vice President of Design and Marketing at Walker Zanger said, "Mid-century modern design brings to mind artists such as Alexander Calder with the focus on sleek, linear spaces. Our new Sketchbook collection takes bold colors and strong geographic patterns, and updates them by incorporating inspiration from nature and the old world."
The varied inspirations behind each design field put a new twist on traditional mid-century modern style. The "Ripple" pattern reflects the fluidity and organic look of a pebble in a pool of water, and a rosette of bright yellow tufts is exemplified in "Dandelion." Featuring a modern color palette of grays, blues, blacks and whites, the collection makes a strong statement in interior spaces.
Source:
http://www.furniture-magazine.us/furnitureindustrynews.asp?newsid=7845&heading=Walker+Zanger%27s+new+hand%2Dpainted+tile+collection+at+the+ICFF