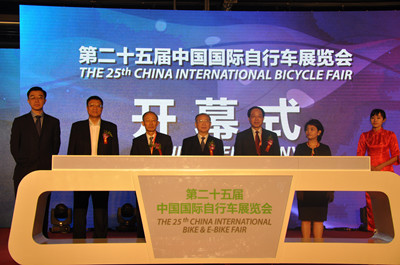 On May 6, the 25th China International Bicycle Fair was opened at the National Convention and Exhibition Center (Shanghai). The President of the Association of Economy and Trade Across Taiwan Straits Wang Liaoping was invited to the opening ceremony.
The fair was themed on "New Demands and New Orientation", with the coverage of 140,000 square meters, 7,227 booths and 1,315 exhibitors. There were 259 exhibitors of completed bicycle, 122 enterprises of electric bicycle and spare parts, 137 enterprises of riding outfit and 771 exhibitors of bicycle spare parts. The number of foreign exhibitors attending the fair reached 131, up 13% compared with that of last year. New exhibitors accounted for 15% of the total, steadily up.
During the 4-day fair, bicycle enterprises from more than 30 countries and regions would show their latest achievements in completed bicycle, electric bicycle, spare parts and riding outfit, demonstrating the charm of bicycle.
Source:
http://english.mofcom.gov.cn/article/newsrelease/significantnews/201505/20150500982430.shtml