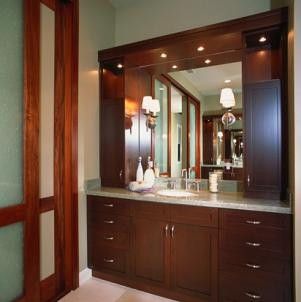 Bathroom vanities are extremely useful and best addition to the bathroom decor. These are perfect storage units and also work as a decorative piece. The cabinet below the bathroom sink and A countertop gives it a finishing touch. There are many things like the available area for sink, etc. that need to be considered for while buying vanities. If you are planning to have these, then here are some ideas for you.

Things To Consider

Firstly, consider the existing bathroom design, size of vanity you are going to have and number of sinks. One of the master bathroom vanity ideas is to have two sinks. It is also a great idea to have a length of wall occupied by the vanity. Another thing that you need to consider is the amount of storage space you require. More the storage required, more the size of vanity or extra cabinets around. It is best to buy the sink and mirror along with the vanity, so as to have a perfect package installed there.

On or Off the Floor

You can either opt for tall legs for the vanity if you need less storage, else you can have just 2-3 inches of legs to keep it above the floor. You can also have it touching the floor. Another idea is to fix it to the wall and have the ground space free.

Organizing the Vanity

One of the vanity design ideas is to have a mix of open shelves, closed shelves and drawers. This will help you organize the things needed in the bathroom properly. The small things can be placed in drawers that can be pulled out to get easy access to the items placed in. Shelves can be occupied by towels and bath robes.

Use Elegant Material

Solid wood will make a truly lavish and very distinctive looking vanity. There are variety of finishes available, such as cherry, maple and mahogany veneers which are most popular choices. Having contrast shades for the doors and drawers is a good idea. You can have a column of horizontal shelves in the center and closed shelves on each of its side. Have drawers in a complete horizontal row, just below the countertop. You can have many variations like having the open shelves on two sides, drawers at the bottom, etc. as per your requirement.

On the Vanity

Choose the countertop that will go well with the wood finishes used. Granite tops that are available in a number of colors are the perfect choice for vanity tops. Again, using a bowl sink is a pretty idea to go for instead of the regular sink. You can have a matching color in this to complement the vanity. Consider the colorful and designer bowls in unique shapes.

Additions

If you don't wish to shell out a lot of money, you could have a plain mirror with a bold border matching with the vanity. If budget is not an issue, consider buying a large and decorative mirror. You can also consider adding more open smaller shelves on a side of the mirror and a closed cabinet on another side. Match the finish with that used for the basic vanity cabinets. You could also have the other bathroom accessories in matching colors as well. Try installing the bathroom flooring and wall tiles that will go well with this. Also get some new towels in coordinating colors to spice up the look of the entire area. Wall scones and embedded lights can be used to illuminate this area. You can also have lovely hanging lights to spice up the look. Placing a plant in a lovely planter is another creative idea to beautify it.

Implementing the aforementioned ideas is sure to help you give a sophisticated look to your bathroom sink. Whatever may be the size of your bathroom, having these in right designs, colors and additions will definitely add a luxurious feel to this area.
Source:
http://www.buzzle.com/articles/bathroom-vanity-ideas.html