At J R Scientific, Inc. (JRS), Woodland, CA, a new slip clutch design from A & A Manufacturing Co., Inc. is providing the uniform torque necessary to ensure product quality on a bottle capping operation.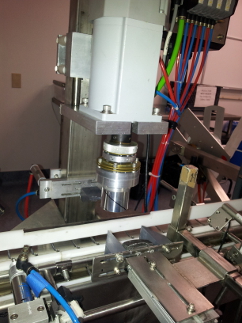 Previously, inconsistent torque control on a new machine had left some caps too loose and others too tight.
J R Scientific provides cell culture media, animal sera and reagent products to the cell culture research and biotech community, primarily for laboratory research or further manufacturing. Founded in 1979, the company has pioneered many innovative products that have fostered much of the growth in these markets.
The company's serum products are packaged in 100- and 500-mL bottles with screw-on caps approximately 1-1/2" in diameter and 1-1/4" high. A machine purchased to cap these bottles during production incorporated an electronic torque control system that proved to be inconsistent and led to some customer complaints.
The company's Brent Broussard says, "Customers would complain that some caps were either too loose or too tight because the caps were either under-torqued or over-torqued."
JRS needed a dependable solution that could be implemented quickly and easily. To rectify the problem, the company equipped the machine with a Polyclutch V-Series clipper clutch, a mechanical slip clutch designed with an emphasis on vertical applications.
The V-Series incorporates the Polyclutch clutch cartridge and housing assemblies into a single self-supporting design that simplifies installation and eliminates the need for a thru-shaft that was required when using a Polyclutch Slipper or Slip-Ease design in a vertical capping or driving application. With the V-Series design, a drive or motor shaft is inserted into the center hub of the clutch and locked in place with set screws, while the housing side of the clutch is adapted to a drive mechanism, pulley or other output device by either assembling to the housing bore or fitting over the housing boss. A ball bearing allows relative motion and compensates for thrust loads, up to 650 lb depending on clutch size, between the clutch cartridge input and clutch housing. Torque level is set and controlled by turning the adjusting nut to increase or decrease spring pressure on the clutch pack.
A 10-minute upgrade
Broussard says it took only about 10 minutes to install the clutch on the capping machine. "When we turned it on and adjusted the torque to where we wanted it, the clutch went right to work. With it, we were able to turn the torque setting on the machine all the way up and control the torque with the clutch."
According to Broussard, JRS has run more than 30,000 bottles through the machine since installing the Polyclutch, and the torque continues to operate within specification. He reports that the only maintenance required has been to remove dust periodically with a pressurized air can.
Ken Kraynak, Polyclutch engineering manager, adds, "J R Scientific contacted Polyclutch looking for a simple, reliable torque-control solution that could be added to their machine and capping chuck with little or no modifications. After discussing the requirements of the application including torque, duty cycle, space limitations and mounting, we were able to deliver a modified version of our VAS48 Polyclutch that was customized to match the J R Scientific torque and mounting specifications."
The Model VAS48 Polyclutch used in this application has a 0.750 inch bore diameter and an outside diameter of three inches. The customized two-plate design has a 40 lb-in capacity @ 50 rpm, utilizing four friction surfaces. Other Polyclutch V-Series slipper clutches are available with outside diameters ranging from 1-1/4 inches to three inches and capacities from 12 lb-in to 300 lb-in. English and metric bore sizes are available up to 1 inch.
Source:
http://www.packagingdigest.com/article/523849-Slip_clutch_solves_capping_problem.php