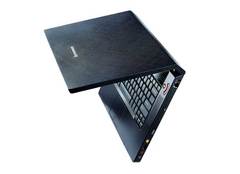 The latest generation of Intel's lineup of Core processors, known as fourth-generation (or Haswell), is performing as expected, with our first batch of tests turning up laptops with notably long battery life and generally excellent performance.
For starters, we tested 11- and 13-inch Apple and Sony laptops. The 11-inch MacBook Air ($1,000) got 12 hours of battery life. The 13-inch Apple MacBook Air ($1,100) achieved the most of all Haswell models tested--15 hours.
Sony laptops also had impressive battery life, if not as long. The 11-inch Vaio Pro SVP11213CXB Ultrabook ($1,150), got 9.25 hours and its 13-inch counterpart ($1,250) 10 hours.
The other Haswell-based laptops we tested were built for heavy-duty gaming. Lenovo's 15.6-inch IdeaPad Y510p ($1,200) is equipped with a fourth-generation Core i7 chip, two graphics chips, and 2GB of video memory, all of which demands lots of power. As a result, the Y510 got just 3 hours of battery life. But considering the firepower behind the Y510 and its focus on gaming, that's a more-than-respectable length of time. And performance was top-notch, with one of the highest scores we've seen. The smaller 14-inch IdeaPad Y410 ($825), which has just a single graphics chip, performed nearly as well and got 5.25 hours of battery life.
MSI is also offering a couple of gaming laptops. As with the Lenovo models, battery life wasn't the greatest compared to most laptops. But among gaming systems, it was more than respectable. The battery on the 15.6-inch MSI GT60 20C-022US ($1,325) lasted 6.75 hours, as did the one on the 17-inch MSI GT70 20C-065US ($1,400). Both were excellent performers.
The bottom line: If you're looking for longer battery life for your laptop, coupled with excellent performance, it's worth checking out a Haswell- or fourth-generation-based model. Even power-hungry gaming systems got better battery life using these processors. For more detailed information about these--and other--new models, check out our latest Computer Ratings (available to subscribers), which will be posted later this week.
Source:
http://news.consumerreports.org/electronics/2013/07/latest-intel-processors-prolong-laptop-battery-life.html#comments