Published by Elaine, February 4, 2015
If you want to become rich, a statement is popular now"Go East, Young Man! "It is not so hard to source product directly from China. Someone has said it is easy as sending an email. Yes. As long as you find a reliable source like Made-in-China.com (online manufacturer directory), you can source China products with several back and forth emails.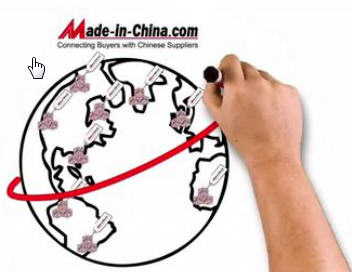 1. Select a product to source. After researching the market and customers of your city or country, you can brainstorm a product that can maximum your profits for retail.
2. Shed light on the local business policies and the China customs policies for your targeting products.
3. Search the items on Made-in-China.com to find your ideal suppliers.
For the beginners, this website provided some video tutorials on YouTube.
Before starting, there are several tips:
Usually , there are manufacturers , trading companies mixed on the platform. You can decide your sourcing methods according to your order size. For small order you can purchase from a trader or trading company. It is fast and convenience but with higher costs. For larger orders, you had better buy directly from the manufacturers.
4. Choose suppliers with Gold Member icon, and SGS audit. Make sure check the certificates of them.
Made-in-China.com offers you several filters, such as districts, gold member, Audit supplier etc. You can narrow your search list to several ideal ones.
5. Decide on your acceptable prices/piece, Order number, and trade terms, such as FOB, CFR, CIF, EXW. Some suppliers have strict min. orders.Besides, you should pay attention to their location, Production capacity, and business license. Finally, select one good manufacturer.
6. Negotiate and ask for product samples.You can't graspe the product details until you see with your own eyes. Inspect the product quality seriously and present your request to the suppliers.
7. Discuss the payment and inspect the quality. Select a safe payment method is very important.
8. Signing a contract is essential.
The contacts should include the following from the expert Rick,
Parties involved
Terms on samples, price, quality management, logistics
Definition of product quality, quality satisfaction, timely delivery
Payment terms
Liability for breaching contract
Choice of law
Dispute resolution
Arbitration clause
Attorneys' fees
9. Resolve language barrier if possible. If your team member can speak Mandarin, you have great advantage in communication with Chinese businessman.
10.Seek help from the support team of Made-in-China.com. Don't hesitate to get assist from buyer service of Made-in-China.com if any problems.