Apps4Fashion, the marketing and sales app for the fashion industry, has again been nominated for an international award.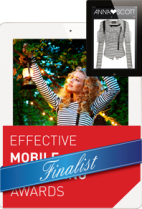 This time Apps4Fashion has been nominated for "The Most Effective Mobile Marketing Awards" by Mobile Marketing Magazine, the global leading magazine from the UK. Earlier this year Apps4Fashion was assigned as Gold Award Winner in the category "Mobile App" at ISPO, the largest industry network for the international sports industry.
"The jury has been knee deep in the best apps, mobile sites, ad campaigns, location-based services and other great work from all over the world. The standard has been unbelievably high this year. From 250 applications, we have separated the excellent from the merely very good.", says David Murphy, chairman of the jury at "The Most Effective Mobile Marketing Awards".
Apps4Fashion has been nominated in the categories "Most Effective Mobile Application – B2B" and "Most Effective Mobile Publishing Solution", because of the extensive lookbook functionality.
Paul Jonker, CEO at it suits IT: "It is fantastic that we join international companies like Auto Trader, Orange, Thomson Reuters and Honeywell in the award finals. With our development partner Apptitude and by continuous dialogue with our customers, we ensure that Apps4Fashion meets the needs and requirements of companies in the apparel and footwear industry. It is a tool that really helps these companies. It is a tremendous success!"
The award ceremony takes place in London, UK on November 28th, 2013.
About Mobile Marketing Awards
The Mobile Marketing Awards is the key industry awards program recognising excellence and effectiveness in mobile marketing, advertising and messaging. The awards is an initiative of Mobile Marketing, the leading magazine dedicated to the global mobile marketing industry.
About Apps4Fashion
Apps4Fashion offers a modern day solution, integrating the polished user experience of the iPad or iPhone, with your own back-office system, so all your latest collection and stock information is available at your fingertips. Apps4Fashion is a full service business to business platform, which is specifically designed for fashion labels and wholesalers.
Source:
http://www.fibre2fashion.com/news/textile-news/newsdetails.aspx?news_id=154290