French automobiles manufacturer PSA Peugeot Citron has introduced a new version of its Onyx concept car, the Peugeot Exalt prior to the Beijing motor show.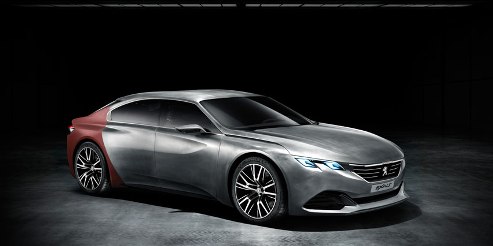 The vehicle is powered by a 1.6THP plug-in 4-cylinder petrol hybrid all-wheel drive power train with an output capacity of 270hp packed with a six-speed automatic gearbox combined with a 70bhp electric motor on the rear axle.
Exalt is said to feature new technologies like Peugeot i-Cockpit, black light, Pure Blue air purifier, while its rear end is covered with a fabric called Sharkskin, which is claimed to improve the vehicle's aerodynamic performance.
The five-door saloon also features trunk lip spoiler with three vertical strip taillights, tailgate with its integral motorised hobby flap, while interiors include the small wheel trimmed in leather and chine, as well as the digital instrument panel on the centre console.
The console also has two folding touch screens of which the upper screen offers access to the on board computer, the Hi-Fi and navigation systems, while the second screen has a visible control bar to access the automatic air conditioning and the Pure Blue system.
Image: Peugeot Exalt. Photo: Courtesy of Peugeot.
Source:
http://greenvehicles.automotive-business-review.com/news/peugeot-reveals-onyx-based-concept-car-ahead-of-beijing-motor-show-140414-4214000