Nestle Dreyer's Ice Cream has made significant changes to key ingredients of its six brands that include Dreyer's, Hagen-Dazs, Outshine, Skinny Cow, Nestlé Ice Cream and Nestlé Drumstick.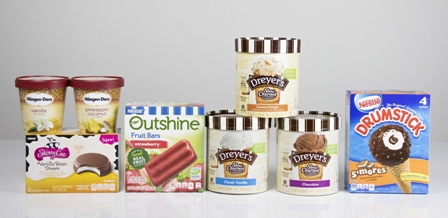 As part of the changes, Dreyer's Slow Churned flavors will be branded as Slow Churned Simple Recipes, to highlight a simplified ingredient profile.
The improved recipes will include a drastic reduction of ingredients to seven or eight, from an average of 22.
Other changes that Nestle plans to implement include removal of all artificial colors and flavors, high fructose corn syrup and GMO ingredients, and addition of fresh milk from cows not treated with rBST.
The new changes will see removal of ingredients such as carrageenan and xantham gum and replacing them with pectin.
Nestle's team, led by research scientist Michael Sharp, scrutinized each ingredient and recipe to explore opportunities to simplify the ingredient list.
Michael Sharp said: "Our mission is to deliver the best product for the consumer. In the case of Simple Recipes, this meant maintaining the great taste and texture of an established and well-liked product with simpler ingredients that consumers understand."
The company is planning to implement the changes in the remaining Slow Churned flavors by the end of 2017.
The company's Dreyer's Slow Churned, which was introduced in 2004, focuses on delivering low calorie, reduced fat options to health conscious consumers, while retaining the taste and flavour.
The latest move by the Swiss food giant is a multi-year effort to improve its existing products across its portfolio of brands. The company aims to simplify ingredients lists, while retaining the same tastes that customers are accustomed to.
The changes also include usage of more real fruit or fruit juice and reduction in sugar by an average of 11% in select products.
Nestlé Dreyer's Ice Cream president Robert Kilmer said: "Nestlé Dreyer's Ice Cream understands that consumers want to know what's in their food, where those ingredients come from and how the food products they purchase are made.
"Using simpler ingredients that our consumers can recognize, and removing those that don't belong, is a natural next step for our brands."
Image: Nestle's ice cream brands to have fewer ingredients. Photo: Courtesy of PRNews Foto/Nestle USA.
Source:
http://sweetsanddesserts.food-business-review.com/news/nestle-simplifies-ingredients-list-in-six-of-its-ice-cream-brands-4870464