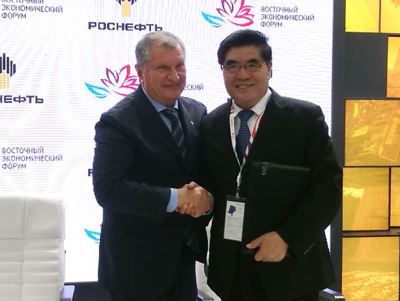 After signing the agreement, Wang Yupu (R) shakes hands with Igor Sechin (L).
On Sept. 2, Sinopec and Russia's Rosneft signed at the Eastern Economic Forum a binding agreement on a joint prefeasibility study for the construction and operation of a gas processing and petrochemical complex in East Siberia. The document was signed by Sinopec Chairman Wang Yupu and Rosneft CEO Igor Sechin.
According to the document in furtherance of the Memorandum of Understanding and the Framework Agreement, the Parties intend to form a joint project team to choose a project management consultant among global engineering companies and to review solutions based on various processing technologies. The details involve the selection of complex site, approval of processes and optimization of solutions. In case of a successful completion of the Agreement activities, Sinopec and Rosneft will establish a joint venture to conduct FEED study, construct and operate the Complex.
Designed to help meet the growing demand for polyethylene and polypropylene in Russia and in China, the project's first phase would have an annual capacity to process 5 BCM of gas to produce polymers and petrochemical products primarily for sale on the Russian and Chinese markets. Rosneft's Yurubcheno-Takhomsky oil and gas fields in East Siberia provide feedstock for the project. It is planned to select a site in Boguchany District (Krasnoyarsk region) to locate the Complex.
Source:
http://www.sinopecgroup.com/group/en/Sinopecnews/20160908/news_20160908_347441463921.shtml