British luxury automaker Aston Martin is set to unveil DBX Concept car at designer Tom Dixon's Multiplex event hosted in The Old Selfridges Hotel.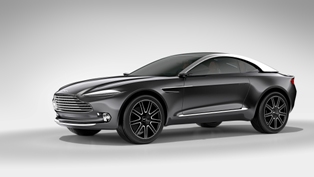 According to Aston Martin, the four-seater car has innovative engineering and unique design language.
The company claims that it has used unnamed unconventional materials to give the finishing touches to the car.
Aston Martin chief creative officer Marek Reichman said: "It seems entirely fitting that a brand with such a rich creative heritage and renowned luxury persona is a key feature of the Multiplex concept.
"I shall be fascinated to see what this innovative and exciting vision creates, and look forward to seeing it myself during the course of the event."
Multiplex creator Tom Dixon said: "The Multiplex is a prototype shop for the future, a multiple stage for new ideas.
"The space becomes a resource for working, playing and entertaining, for inspiration and for business - a platform for superior broadcasting of brands and ideas and a temporary central London entertainment space for new commerce."
The company previously announced that its forthcoming sports car would be called DB11 which set to be unveiled next year.
The name of the car is in line with the brands signature DB series, which also includes DB5, DB9 and DB10 car which will be featured in the new James Bond movie.
The DB10 is based on the two-seater Vantage model that was introduced in 2005, featuring the 4.7-litre V8, which was released in 2008.
Aston Martin has not released the performance details of the car, but the Vantage V8 is capable of 180mph and can accelerate from 0-62mph in 4.8sec.
Image: Aston Martin DBX Concept car. Photo: courtesy Aston Martin.
Source:
http://design.automotive-business-review.com/news/aston-martin-to-introduce-dbx-concept-car-at-tom-dixons-multiplex-event-180915-4673866