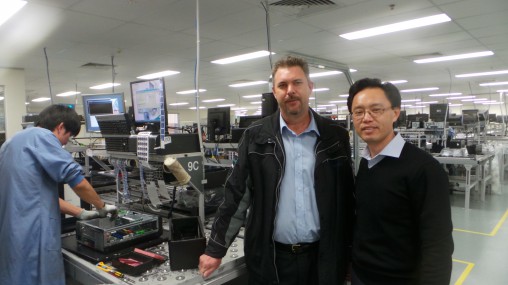 Outgoing Acer MD Charles Chung (right) with Andrew Bosch.
Acer Australia and New Zealand has announced the appointment of a new managing director for the local subsidiary, following news that the current MD is set to retire due to health concerns after more than a quarter of a century with the company.
The company's sales director Darren Simmons will step into the MD role, effective 10 February 2014. Outgoing MD Charles Chung will retire as of 7 February 2014 "to concentrate on his health recovery and family" following surgery in 2012 and ongoing health concerns, according to a statement from the company.
Speaking about his departure, Chung expressed his passion for the Acer business and his sadness about leaving the MD's chair.
Acer was my first job after I graduated from the University and I have been working for the company since 1988. Acer is 100 per cent inside my blood, heart, mind and soul. I would like to take this opportunity to extend my heartfelt thanks to the talented and dedicated Acer Australia & New Zealand team and our loyal channel and retail partners, who have made my time at Acer monumentally rewarding.
It has been a very tough and heartrending decision to leave Acer, but I am confident the company will thrive under the leadership of Darren Simmons.
A veteran of the consumer electronics scene in Australia, Simmons has worked in the IT industry since 1984 and has been part of Acer Australia for more over 13 years. According to a statement from the company, "he has proven he is a strong business leader with a results-driven management style, an affinity with the channel and a complex understanding of the Australian and international ICT markets".
For his part, Simmons paid his respects towards Chung on the occasion of his upcoming retirement and outlined his outlook for the company in the years ahead:
It is with the greatest respect and reverence that I take over from Charles Chung as Managing Director. His vision for the company and unwavering dedication will continue to inspire the team. On behalf of myself and all at Acer Australia & New Zealand, we wish Charles a happy and well-deserved retirement.
Over the last 9 months, Acer Australia has been undergoing restructuring activities, business realignments and changes to the internal teams to adapt to the changing market and promote further growth with a strong focus on the channel. With these changes in place the company is in a strong position.
The technology future continues to evolve and I eagerly look forward to helping my Acer colleagues, customers and channel partners to grasp the opportunities that change provides and be mutually successful in our dynamic world.
Our task is not to reinvent an already successful business but to seek and develop opportunities that help grow the productivity and human potential of our customers, channel partners and Acer staff.
Source:
http://www.applianceretailer.com.au/2014/01/acer-australia-md-to-retire-after-more-than-25-years/