Innovative Technologies by Design has launched new Temp-Taker 3, an automated food temperature management solution.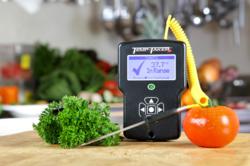 The Temp-Taker 3 system provides fast temperatures and customizable options for taking, correcting, and displaying temperatures. It features False Measurement Detection, customizable HACCP question checklists, User log-in PINs, audio/visual alarm indicators etc.
The False Measurement Detection (FMD) system eliminates human error. It identifies and flags measurement falsification in order to alert supervisors of personnel not following procedure.
Integrated HACCP checklist feature allows users to enter their own custom operations, maintenance, food safety, and other questions that need to be answered by staff daily.
The Temp-Taker 3 software also includes the new support for Time in Lieu of Temperature (TILT).
The device's memory and efficient data-storage algorithms can store 2,000 different food items and also has the capacity to save more than 6,000 temperature, checklist, and security events. It also maintains statistical information to help supervisors monitor worker activity.
Innovative Technologies by Design specializes in providing solutions to simplify and streamline food safety processes from the prep-table to consumption.
Source:
http://itandsoftware.food-business-review.com/news/innovative-technologies-by-design-launches-automated-temperature-management-solution-080413