LED lighting technology firm Flip Chip Opto Inc of Fremont, CA, USA has launched its Ares Series UV-A spectrum flip chip COB (chip-on-board) LED module as part of the firm's standard product line up.
The Ares Series is based on patented DBR (distributed Bragg reflector) flip-chip LEDs and features unique proprietary low-temperature bonding technology that boosts lighting efficiency and decreases thermal resistance between the LED chip junction and the module's metal substrate.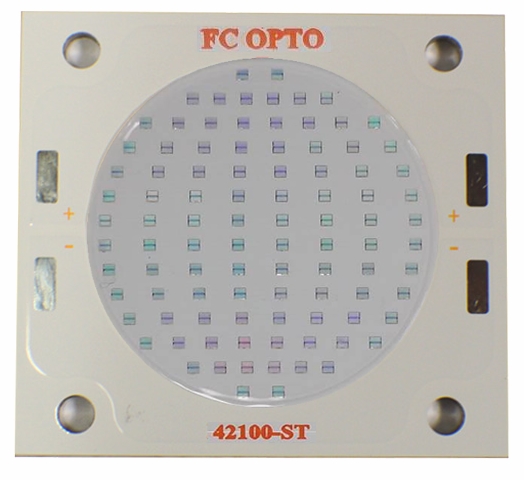 The Ares Series features 100W and 200W COB modules with two different variants in the UV-A illumination spectrum at peak wavelengths of 375 ±5nm and 395 ±5nm. The Ares 100A consumes maximum power of 185W (375nm peak) and 167W (395nm peak) and has a thermal resistance of 0.18°C/W. The Ares 200A consumes maximum power of 360W (375nm peak) and 327W (395nm peak) and has a thermal resistance of 0.12°C/W. Both the 100W and 200W modules have dimensions of 42mm x 42mm x 3mm, with light-emitting surfaces of 30mm and 32mm, respectively.
Flip Chip Opto reckons that the new single-source UV LED module will open up new applications and solutions to a wide spectrum of industries including medical, sterilization, disinfection, horticulture and indoor gardening, food processing, phototherapy, security, sensors, and industrial curing applications.
Source:
http://www.semiconductor-today.com/news_items/2016/aug/flipchipopto_190816.shtml