Jaguar is planning to unveil the C-X75 supercar, featured in the new James bond movie Spectre at the 800th Lord Mayor's Show in London this week.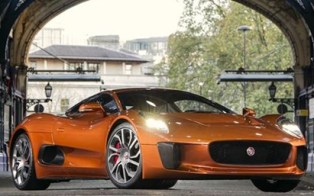 The electric hybrid concept car was developed by the company's Special Vehicle Operations team in collaboration with development partner Williams Advanced Engineering.
The car is powered by 1.6-litre turbocharged and supercharged four-cylinder engine along with an electric motor which together produce output of 630kW and 1000Nm of torque.
It also has advanced 7-speed automated manual transmission that facilitates the car to accelerate from 0-160km/h in less than six seconds, and allows gearshifts in less than 200 milliseconds.
The company built seven C-X75s, out of which two were original cars that featured interior and hybrid powertrain, and the rest of the five stunt cars were used in the bond movie that were specially designed to withstand complex and demanding stunt sequences.
In latest 007, Jaguar C-X75 is being driven by one of the antagonist called "Mr. Hinx," and the car can be seen in high-speed chase with Bond's bespoke Aston Martin DB10.
SPECTRE stunt driver Martin Ivanov said: "I'm really looking forward to getting back behind the wheel of the Jaguar C-X75.
"It was a memorable experience driving this car during filming in Rome, I'm looking forward to seeing the reactions of the British public."
Jaguar is also planning to showcase its new Jaguar XE sports saloon, a Jaguar F-TYPE and two bespoke Range Rovers at the event.
Image: Jaguar C-X75. Photo: courtesy of Jaguar Land Rover.
Source:
http://design.automotive-business-review.com/news/jaguar-c-x75-supercar-in-london-161115-4719443