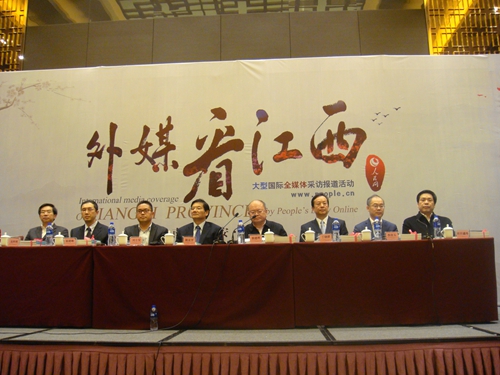 Senior officials of Jiangxi Province and high-profile staff of People's Daily Online attend the press conference. [Photo/People's Daily Online]
More than 40 journalists from home and abroad are invited to a media tour to east China's Jiangxi province which starts from Dec.10 and ends on Dec.14.
The activity, organized by the publicity department of the Jiangxi Provincial Party Committee, Jiangxi Provincial Commission of Tourism Development and People's Daily Online is expected to promote the rich tourism resources Jiangxi Province.
Jiangxi has seen sound development in tourism with remarkable growth in tourism revenues. During the period from January to October of 2015, Jiangxi welcomed 347 million tourists bringing in revenues of more than 298 billion yuan, registering a year-on-year increase of 23.17 percent and of 37.16 percent respectively, said Ding Xiaoqun, Director of the Jiangxi Provincial Commission of Tourism Development.
Our government will try their best to protect our mountains and water from pollution and the good ecological environment is the trump card of our province, Yao Yaping, head of the Jiangxi Provincial Publicity Department, said at a press conference.
Jiangxi is home to four World Geoparks, one wetland of international importance, eight National AAAAA-class tourist attractions and 14 national scenic spots.
Source:
http://www.chinaculture.org/2015-12/13/content_633903.htm