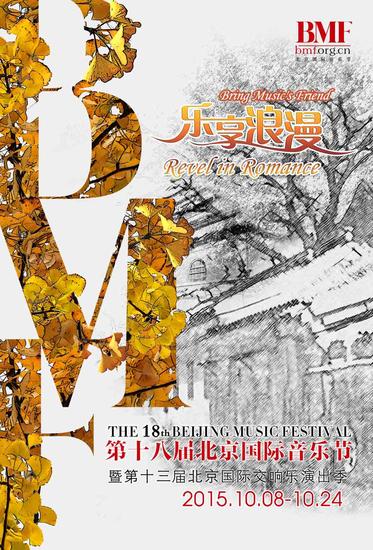 Opening night of the 18th Beijing Music Festival (BMF) took place at Forbidden City Concert Hall in Beijing on Thursday with a concert under the baton of noted Chinese conductor Yu Long who stands as the founder and art director of BMF.
From Oct 8 to 24, the annual festival presents 16 concerts, two operas, and a handful of free children's concerts.
Beijing holds a few cultural events throughout the year, but fans of classical music look forward to the month of October because of the BMF, an annual feature that helps bring the latest global productions to China.
The festival is fresh. It isn't about outdated Western artists' tours of China or unknown orchestras looking to make some easy money. A number of noted musicians gave unprecedented new performance at the past festivals.
At the opening performance themed "When East meets West", two world-famous musicians became the biggest surprise. Accompanied by China Philharmonic Orchestra, South Korean violinist Chung Kyung-Wha, who attended BMF for the first time, played Max Bruch's No.1 Violin Concerto. Latvian-born Israeli cellist Mischa Maisky played young Chinese composer Zou Ye's Variations on Chinese Melody,making his debut playing music work by an Oriental composer.
China Philharmonic Orchestra also played Chinese composer Chen Qigang's Instants d'un Opera de Pekin. Chen borrowed Peking Opera's typical tunes xipi and erhuang while blending the percussion instruments of the Peking Opera such as gongs and cymbals into the Western orchestra.
Born in Shanghai in 1951 but living in France since 1984, Chen is the last student of French composer Olivier Messiaen (1908-1992). His works feature the rich flavor of Chinese traditional culture interpreted in a modern Western composing technique.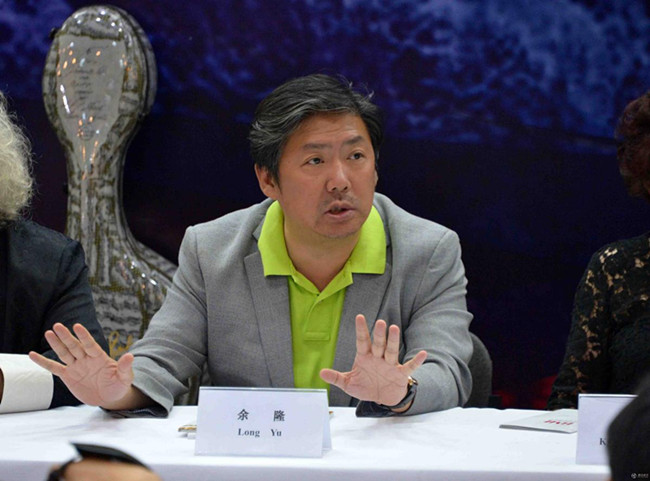 Yu Long told Chinese media at a press conference Tuesday that BMF had grown into a major force pushing forward commissioned works in China. "It provides a stage for these works to reach followers of classic music. Although classic music is a hobby of a small crowd, it is also an important part of Chinese culture.
"Music is an art that passes from one generation to another. We had Mozart and Beethoven and the classical works. Now we need to find emerging talents and help them create great works," Yu said.
Last year, BFM focused on the late German composer Richard Strauss. This year, the festival will introduce a brand new theme, "Revel in Romance". Musicians from different countries will present many concerts to honor two German Romantic representatives, composer Richard Wagner and pianist Johannes Brahms.
Under the baton of Finnish conductor Jukka-Pekka Saraste, WDR Symphony Orchestra will give four concerts on Brahms including all his symphonies, and his representative piano concerto, violin concerto as well as double concerto by violin and cello. Pianist Gerhard Oppitz, cellist Wang Jian, violinist Frank Peter Zimmermann, and Xu Weiling will be involved in the performance.
Produced by Austrian Tirol Festival Erl, two Wagner operas, The Master-Singers of Nuremberg and Tristan and Isolde will make their China debut during the festival.
The BMF has held many premieres since its start in 1998. Another China premiere this year will be the closing concert which will have maestro Peter Ruzicka conducting the Estonia National Male Choir, International Choral Academy Lubeck, Shanghai Opera House Choir and Shanghai Symphony Orchestra for Arnold Schoenberg's strange yet fascinating mega-cantata Gurrelieder.
In addition, BFM will also include The Heaven & Earth Totem by renowned Chinese female musician Liu Sola and Her Friends, and Ping Pong Concerto, featured American violinist Elizabeth Zeltser and two Ping Pong players in real life, by 36-year-old American composer Andy Akiho.
Source:
http://www.chinaculture.org/2015-10/09/content_625513.htm