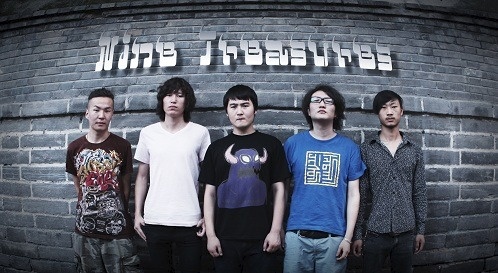 Nine Treasure members. Leading vocal Askhan (middle) is deemed as the soul character by Nine Treasure members. [Photo provided to chinadaily.com.cn]
After touring 12 cities in nine European countries, Inner-Mongolian folk metal band Nine Treasures not only made their debut in Europe a great success, but also refreshed the metal music world with a touch of Chinese ethnic characteristics.
Comments, filled with admiration, ushered in their YouTube videos and ardent fans described their music as "awesome" and "fantastic" upon watching their performances at festivals such as Wacken Open Air 2013 in Germany and Wacken Open Air held in Hungary.
"Mongolian folk metal is the kind of thing I never realized was missing from my life until I heard it," said Ampulex Compressa, a German fan who claims it's their music that makes his life complete.
Despite such exuberant compliments, which never cease as Nine Treasures continues to tour cities, big and small at home and abroad since its foundation in 2011, the band members don't seem to be dazzled by the praise. "The combination of metal and folk Mongolian music is indeed still sort of new to a lot of people, and fortunately the result was not bad," said Ao Ruifeng, the band's bass player.
At first hearing, Nine Treasures's music appears loud and chaotic, like a typical metal band to ears used to indie rock or folk music. But soon as you scale the hilly metal pitches, the listener will discover a unique background melody filtered by the Mongolian instrument - the morin khuur (traditional Mongolian bowed stringed instrument) and the Russian three-string Balalaika.
By fusing exotic Mongolian folk music and indignant metal, Nine Treasures create a clamorous uproar which members tease is "nomadic rock". The leading vocalist Askhan's coarse yet penetrating throat, which shouts out the Mongolian lyrics like incantations and prayers, simply adds icing on the cake.
Last Friday, Nine Treasures, modest and versatile singer Askhan, laidback Morin Khuur player Ding Kai and bass player Tsog, gave an interview to China Daily Website and shared with us how their music came about and their experiences touring abroad.
How did the band name Nine Treasures come about?
Tsog: Nine Treasures stands for nine objects, namely, gold, silver, bronze, iron, agate, amber, jade, pearl and coral. These nine objects are praised in ancient Mongolian poems, one in particular, said that if the nine treasures are secured and you don't have to go out of your way to go after them, good luck will be yours. We thought it an auspicious name so decided to take it. The one who actually came up with the name is now in Hanggai, another Inner-Mongolian band.
How is metal music received in China?
Tsog: There aren't many people who would actually listen to metal. But it is okay in China, because people who come to music festivals are mostly university students; they pretty much listen to everything. But during overseas performances, we found almost all of the audiences are metal fans. We are considering dropping the label "metal music"; we'd prefer to be called Mongolian rock, or nomadic rock.
What are your songs about? Where do your ideas for writing come from?
Askhan: Some of my songs are about the environment we're living in, and others come from mythology or fairy tales – verbal or written. Arvan Ald, for example, is a song derived from a myth I heard in my family, it is a science fiction style hobgoblin story. It was passed down from generation to generation, and I kind of remember it since I heard it as a child. It naturally came into my song later.
So far you have issued two albums, what are their differences?
Askhan: The first is a bit natural, without much polish and honing. It's abundant in originality. The second album is more mature with techniques, like the transition, getting much smoother and the instruments are fitting better with each other. We try to improve with every album.
How about your new album? When will it come out and how it will different from the previous two?
Askhan: We have enough songs to make a new album now. I think the songs would be ready at the beginning of next year, and the album may come out next March or April. The style of the album is hard to describe, and we haven't come up with a name yet. It has to be decided at the last moment.
Tsog: We five will spend the next two months in Tianjin where we can actually rehearse together and make music, because we live far from each other in Beijing, and we don't have much time to rehearse together.
Do you have plans to work with foreign bands?
Askhan: A British band tried to reach me on Facebook, asking if we can cooperate because they wanna add the morin khuur in their music. But they seem to have some religious problems, which may cause trouble for us if we want to develop the European market. So the cooperation failed to actually take place.
You've been to nine countries in Europe, which do you feel most connected to?
Askhan: Overall they are great. I mean they have very good atmosphere for playing music. Even for a remote, small city in North Germany, people are very enthusiastic about music – they have grandmas and grandpas coming to hear your music.
Tsog: I remember there's a 95-year-old grandpa who came to our performance. He stood in the very front, his eyes were shining and he danced to our music. When he got tired, he sat on the big sound box, and as he regained his strength, he jumped off the sound box to dance again.
How did you come up with the idea of mixing folk music and metal?
Askhan: We didn't really touch on metal till high school. We were playing rock at first, and then when we have played it for so long, we start to think of something more creative. I first came up with the idea at a Nadam Fair while I was in senior two. I was playing rock, and invited a morin khuur player to join us, and to my surprise it actually sounded very good. Later when we performed, we rewrote the scales to make the guitar, drum stuff sound better with the Mongolian and Russian instruments.
Do you have songs you wanna recommend to those who don't know you well yet?
Askhan: Black Heart, Sonsii, Arvan Ald, Tes Rivers Hymn maybe.
Are your performing costumes specially made?
Askhan: Yea, I went to Hohhot specially to meet with a Mongolian designer. I talked to him what kind of costumes we wanted, and he sketched them for me. Within half an hour the design drawing was done.
Do you have bands you appreciate in China?
Askhan: We've seen live Second Hand Rose. We thought they were very earnest and down to earth in making music. Aside from the first level bands, some underground bands are also great, like Bloody Woods, it is a band taking music very seriously, and they are doing great.
Source:
http://www.chinaculture.org/2015-11/25/content_628416.htm