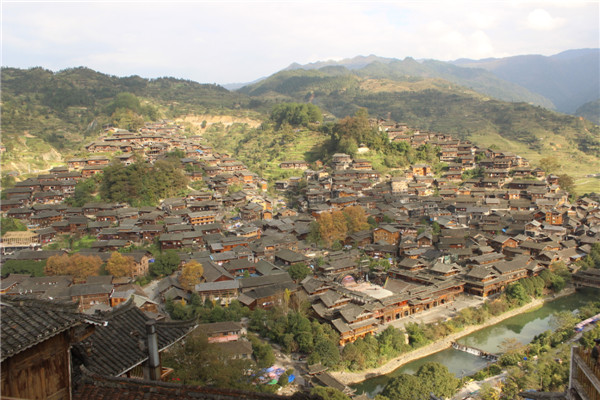 Qiandongnan's Xijiang village, the country's largest ethnic Miao community. WANG KAIHAO/CHINA DAILY
It is like taking a walk back in time. Women from the Dong ethnic group in the 800-year-old Huanggang village are dyeing shiny traditional clothes used during festivals.
Asked how much they cost, they look puzzled. "I am not sure," one woman says.
"Usually, we don't sell them. But if someone visiting the village gets along really well with us, we'd rather give them as a gift."
It takes half a year to make each piece.
For us, visitors, the village of Qiandongnan Miao and Dong autonomous prefecture in Gui-zhou province feels like utopia.
The village is one among those being slowly opened up for tourism.
The wooden cabins in the village are still constructed the old way: No bricks or nails.
The Grand Song of the Dong People, a music genre which has become popular worldwide in recent years, resounds in the air.
Older residents gather around a bonfire in a drum tower in the center of the village to discuss upcoming rituals.
"Decisions about major events like rituals and celebrations are still made in the drum towers rather than by village commissions (the executive body in China's villages)," 62-year-old Lu Genmao, one of the nine patriarchs in charge of the drum tower, says.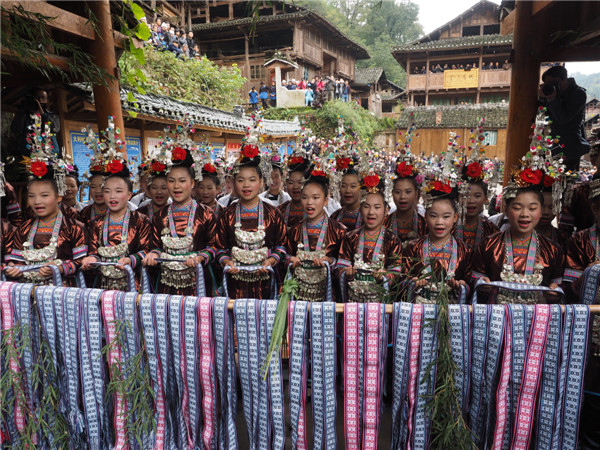 Young villagers sing at a welcome ceremony for visitors in Dali village, Qiandongnan, Guizhou province. ZHANG JIHUI/CHINA DAILY
There are five drum towers in the village, which has around 1,600 inhabitants.
He says: "The lifestyle here has not changed much over the years. People here are attached to their hometown and don't want houses elsewhere. Very few people go to big cities looking for work."
Nevertheless, the reasons for maintaining the status quo do not sound too convincing.
"The transport system is not convenient," Lu says.
"And we want to have safer and warmer brick houses when we renovate, but the reason we stick to using traditional methods to build houses is mainly because wooden ones are much cheaper."
A local's average annual income is less than 10,000 yuan ($1,570), and most of it still comes from farming.
So, what will happen when the locals get richer after their village is opened up for development?
Since 2013, 2,555 villages around the country have been designated as "traditional Chinese villages".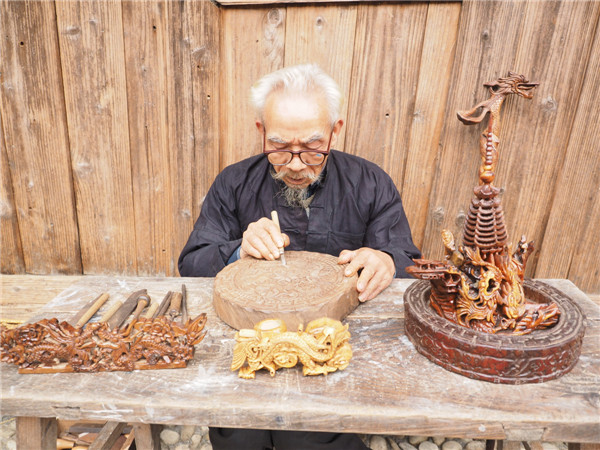 An elderly villager makes a traditional musical instrument of the Dong ethnic group in Dali village. ZHANG JIHUI/CHINA DAILY
They are on a list compiled by several central government departments, including the Ministry of Housing and Urban-Rural Development, the Ministry of Culture and the State Administration of Cultural Heritage.
Among them, 276 are in Qiandongnan, which is the most for all city-level administrative regions in the country.
A China Traditional Village Summit was held earlier this month in Qiandongnan to explore ways to better preserve the disappearing landscape.
Zhou Jian, an architecture professor from Tongji University, says: "Protection of traditional villages should not focus only on the architecture or landscape.
"Our work should pay more attention to local communities, to encourage their participation."
He says that many projects, like countryside museums, introduced in the villages in Qiandongnan had failed because they are not "down-to-earth" enough.
"Experts and governments cannot make all the decisions for the villagers. We need more consultation with the locals. If villages are not comfortable places to live in, it will be impossible to talk about their protection."
Consequently, for richer villages where people have begun to build brick houses, Zhou suggests preserving some wooden structures and drafting plans mutually acceptable to villagers and designers.
"The protection of traditional villages does not mean that the landscape should remain unchanged. It is not sensible to adopt one model for all villages," says Zhou.
While promoting tourism is seen as a good way to revitalize villages, the lives and traditions of the local people often get disrupted.
Take Biasha village for example. The village is inhabited by the Miao ethnic group (known as the Hmong abroad). The Miao there are known as one of China's last hunting tribes and for their belief in a tree god.
As Gun Shuige, a local tour guide, says: "Before the development of tourism in 1999, everything was unchanged. Except for trading our lumber for salt in a nearby market, we didn't even need to go out of the village.
"But now, every day is festival," he says with slightly embarrassed smile.
Earlier, the lusheng, a traditional musical instrument, was used only for major celebrations or rituals, but the village stages lusheng shows three times a day for tourists.
In Xijiang village, one of the largest Miao villages with 6,000-plus inhabitants, things look even more dramatic since tourism started in 2009.
If you take battery-powered cars to tour the place, it is tough to spot a typical residence house in an ocean of karaoke places, barbecues and pubs.
As for traditions, Xibaoyi, a 23-year-old local guide, says a local "fire-caution" festival has become a casualty of the tourism push.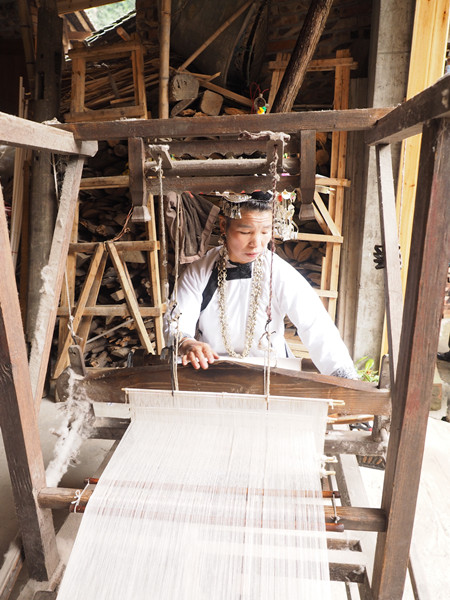 A Dong ethnic woman weaves in the traditional way. ZHANG JIHUI/CHINA DAILY
She says that on the festival day the use of fire was prohibited in the village and all the people had to go to a nearby river to eat cold dishes. This was to remind the Xijiang people about taking precautions to keep wooden structures from catching fire and to pay homage to the fire god.
"Now, we cannot demand that tourists not use fire on that day," she says. "They eat whatever they like."
Meanwhile, though a proposal was made by 100 scholars at last week's summit to accelerate the push for Qiandongnan's traditional villages to be declared as UNESCO Cultural Heritage sites, Cao Changzhi, deputy director of the State-level commission for traditional village development, is not optimistic.
He says: "I did research in Qiandongnan in 2012. Some traditional villages were well preserved then.
"However, when I went back recently, I found that many things had been replaced by wide roads, newly built fortress gates and stores, all within three years."
Zhao Hui, chief economist of the Ministry of Housing and Urban-Rural Development, says that while traditional villages are still vanishing, government efforts have slowed the pace.
"Protection is still the priority, but we also have to find ways to improve the villagers' livelihoods.
"Poverty is still the biggest challenge," he says.
As Xibaoyi says: "Many people ask me which one I like better: my hometown in the old days or the new look."
Her answer is tactful. "Well, visitors always like original landscapes. But we had to struggle to fight poverty, and tourism has enriched us. So, for sure, I prefer today."
Source:
http://www.chinaculture.org/2015-11/30/content_628699.htm