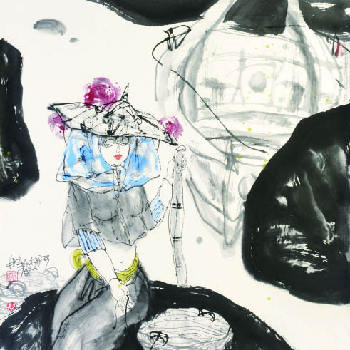 A Huidong Beauty. 68 × 68 cm
Lin Feng was born in Indonesia in 1938, and returned with his family 10 years later to their ancestral home of Fuqing, Fujian Province.
When, during the 1960s, the government called on young intellectuals to support the development of Xinjiang Uygur Autonomous Region, Lin Feng was one such volunteer. He has since dedicated his life to Xinjiang. Lin Feng is noted for his paintings of landscapes in China's vast west regions and portraits of ethnic minority peoples, including Uygurs.
Lin Feng's creative concept is that of "a mix of East and West, old and new, traditional and modern, abstract and visual", enacted through a hyperbolic technique that blends modernistic colors with points, lines and surfaces and makes no attempt to create a 3D effect.
Lin Feng pursues comfortable, resilient lines and forms. His painting style is abbreviated, free, simple, and indistinct, combining southern delicacy with northern boldness. His works present forceful contrasts through their absence of mid-tones, and complicated, confusing intimations that might be imagined rather than actual. A few strokes in red clay and cinnabar amid the ink wash evoke in Lin's images, whether of people or landscapes, the impression of a place beyond the Great Wall, one comparable perhaps to Xinjiang's Turpan.
Source:
http://www.chinaculture.org/2015-11/17/content_627573.htm