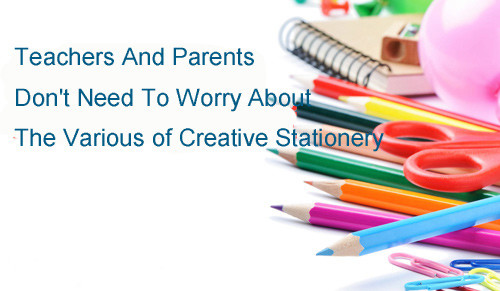 No matter you are visiting the corner store or shopping malls ,what the direct experience to today's stationery market must be dizzying . There are all kinds of fancy stationery in the mall , office design bouncing pen, various shapes of gel pens , especially to those correction tape and eraser, they have all kinds of different shapes and design that you can't imagine!
In recent years, those creative stationery which around the kids will not only bring happiness to them, but also bring some profit to stationery suppliers . However, due to the concerns of children's health and learning , many parents and teachers will take precaution to distinguish these new stationery and even some parents may interfere with the child to buy stationery.
With the trend of personalization, the " demonizing" personalized stationery is obviously inappropriate. They fear that those fancy stationery will attract children's attention and make them unable to concentrate on their studies. This fear is not unreasonable, but step back and think of it , is it a good thing to have invariable stationery for decades ? In the past, we keep calendars to wrap new textbooks, writing ballpoint pen which may leak , carefully using the pen which is fragile. Children today are not necessarily to have this memory of the past, because with the progress of the times, this memory will be constantly changing. Rrapid upgrading of the status is conform to the rapid development of contemporary Chinese society. So what we should reject is the stationery with high prices , but not the stationery which itself have fun and user-friendly design.
Student stationery is getting mare and more personalized , in fact, this is the development trend of the market. But it is reasonable, while parents will supervise children's study by controlling them not indulge too much in the creative stationery. However ,resisting new stationery too much is unwise. Technology and society are developing , but whether adults or children, without exception, will be busier. Since this is the status that can't be changed , then it is very necessary to let our work and learning happier.I think it is enough and satisfied to see a lovely pen, or a pen with a smile when relaxing , that can make us feel happier .Perhaps this is the most secretive and important reason why fancy stationery is popular !
Source:
http://www.lepusheng.com/news_detail/newsId=f149e031-798b-46fb-8b8e-ac40969c8e90.html