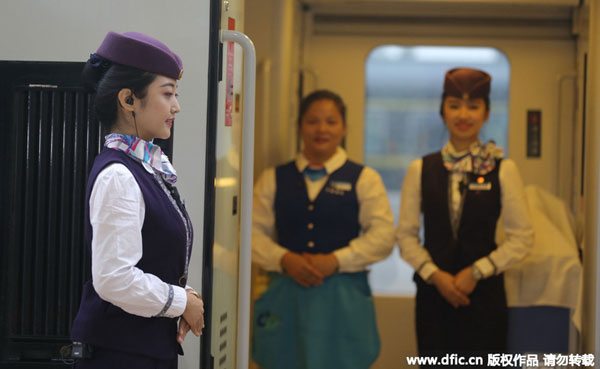 The world's first circular high-speed railway line has begun operation in China's southernmost province, Hainan.
Locals are hoping the new rail will further promote the economy of the island, which is already a popular tourism attraction.
A final stretch of high-speed railway began operation on Wednesday, making it the rail of its kind to circle an island.
A bullet train set off yesterday from Haikou, the capital of the island province, on the 345-km western track of the loop line. It links six counties with the eastern portion of the track in Sanya City.
The loop railway is over 650 kilometers long and stops at 29 stations, taking three hours to circle the island.
Chi Pingping is the engineer of Hainan High-speed Railway Project
"In the construction of the high-speed railway line around Hainan Island, we adopted such advanced technologies and measures as those against typhoon, corrosion and high temperature conditions. The data collected during the construction will be a good reference for any future high-speed railway projects in tropical areas."
Wei Rui is a tourist from Beijing. He is considering making a tour around the island.
"The east line has been operating for five years. I have traveled by it before. It's beautiful along the way. Coco trees were everywhere. The train goes through the coast and some channels. I've been looking forward to the west line. I've never been to the west. This time I hope I can take a trip around the island."
With a land area of 35,400 square km, Hainan is slightly larger than Belgium and a popular destination for beach lovers.
The province received more than 47 million tourists in 2014, a 10.6 percent increase from a year earlier.
Chen Hongyue, director of the Wanning Tourism Administration, says 2011 was a breakthrough for the island's tourism industry.
"Before the launch of the high-speed railway, we had less than three million tourists staying overnight here. But this year, a total of nearly 3.9 million tourists are expected here, bringing an estimated revenue of 3.5 billion yuan (about 540 million U.S. dollars)."
To boost its tourism industry, the island province will raise the upper limit of the duty exemption and promote online duty-free shopping.
Source:
http://english.cri.cn/12394/2015/12/31/4201s910787.htm