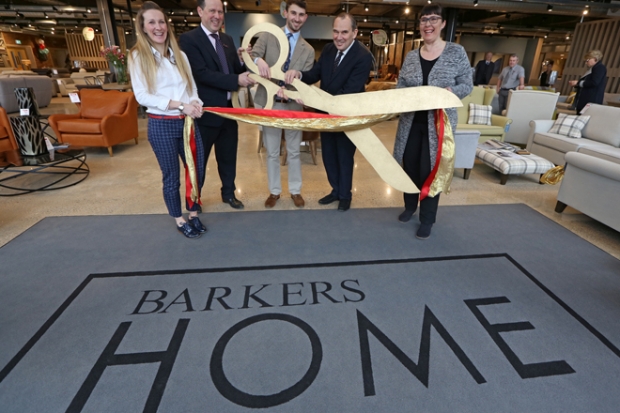 Barkers Home officially unveiled its revamped £3m furnishing store in Northallerton on Saturday. Directors Charles, Ian and Guy Barker cut the ribbon to mark the official opening of the family-owned store on Yafforth Road, which has undergone a major redevelopment.
The store has been expanded by 20,000 sqft to 60,000 sqft – almost an acre-and-a-half - to create a section for contemporary furniture, bigger linens department, new cook, wine and dine section, and gifts section, while there has also been a revamp of the first-floor bedroom furniture and soft furnishings section.
The expansion marks the biggest investment by Barkers, which also runs a department store on Northallerton high street.
Work is now set to begin on phase two of the redevelopment, to expand the size of the store's Tree View Café from 100 seats to 150. The exterior of the store is also being given a makeover by award-winning gardener Will Quarmby.
Director Ian Barker says: "The whole redevelopment will transform Barkers Home into a modern, vibrant store. To be a serious player in the furnishing market, we need to continually improve. We are so excited about this new look to the store and we can't wait for our customers to come and see the result of our work over the last few years. As well as being a furniture store we are now a complete store for the home.
"The expanded store is large for the size of the town, but Northallerton draws from a vast area including Leeds, York, Teesside and Scarborough, and has earned a terrific reputation for its choice of quality shops and stores, unique independents and multiples, and easy parking.
"We start the next phase of improvements after Easter and customers will see a big transformation in the Tree View Café as it will increase in size by 50% and become much lighter as we are taking two walls down. It was last revamped in 2010 and we are extending it and freshening it up, with new flooring and furniture."
The store has introduced new brands in contemporary furniture, including Fama, Stressless and Collins and Hayes. It is also stocking a range of more than 70 beds by leading manufacturers.
Barkers Home currently employs 45 staff, but will create up to 15 new full and part-time jobs. Building work started last May and is being carried out by Darlington-based Wharton Construction, another family business, which has worked with Barkers for the past 10 years.
Source:
http://www.furniturenews.net/news/articles/2016/03/1553833710-barkers-home-unveils-store-revamp