Samsung Electronics Co Ltd of Seoul, Korea has introduced inFlux, a new lineup of high-flux, linear LED modules optimized for industrial lighting applications such as plants, parking lots and warehouses. The modules serve as a replacement for conventional T8 and T5HO (high output) tubes and are suitable for high-flux LED luminaires covering up to 40,000lm in luminous flux.
"By providing a wide variety of installation layout options and brightness intensities, our new inFlux linear module will deliver greater design flexibility and convenience for lighting designers, as well as high performance and reliability for fixture manufacturers," says Jaewook Kwon, VP of the Lighting Marketing Group in Samsung's LED Business Team. "We will continue to reinforce our well-differentiated LED lighting engine lineups to be able to meet more diverse market needs."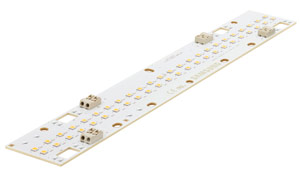 Picture: Samsung's inFlux linear LED modules for industrial lighting.
The inFlux LED module incorporates the firm's mid-power LED package (LM301A), which features flip-chip technology that enables a shorter junction-to-base distance and less thermal barrier layers in each package, while avoiding the need for metal wire bonding. This leads to a reduction in thermal resistance of the packages, and allows each package to handle a wide range of current with improved light efficacy. Fully embracing the flip-chip LED approach, the new inFlux modules can provide better light performance, wider current alternatives and much lower heat resistance than modules using a conventional epi-up chip package, says Samsung.
Compared with using high-power packages, high-efficacy mid-power packages can be placed more densely, which results in minimizing light deviation and increasing light uniformity of the inFlux module lineup, says the firm. By utilizing a mid-power package, the inFlux lineup also brings cost benefits to manufacturers, it adds.
The inFlux modules are available in six product types. Each comes in a different flux range between 1310lm and 9380lm with a length option, either 280mm or 560mm, and offers several correlated color temperature (CCT) variations, including 3000, 3500, 4000 and 5000K. The product options offer lighting fixture makers more design flexibility in addressing a wide variety of application requirements, says Samsung. Through a combination of different module types, LED fixture manufacturers can vary their lamp flux from 6000lm to 40,000lm.
The inFlux modules have been UL/cUL certified (USA), as well as CE and ENEC certified (Europe), and carry a 10-year warranty.
The firm says that it also makes it easier for fixture makers to take their lighting products through industry certification processes, due to cooperative relationships that Samsung LED has established with recognized certification companies in the USA, Korean, European and Chinese markets. These partnerships can simplify complex procedures, reduce time to market and ultimately have a positive impact on overall costs, the firm claims.
Source:
http://www.semiconductor-today.com/news_items/2016/feb/samsung_050216.shtml