Molex Company showcased a wide range of advanced electronic solutions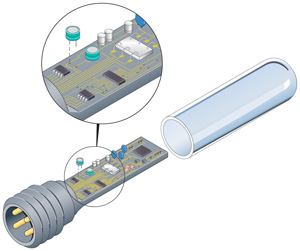 Molex Incorporated showcased its technical innovations at BIOMEDevice (an MD&M event), San Jose, CA, December 3 – 4, 2014. The company has proven expertise in developing solutions that help medical device manufacturers bring their emerging technologies to market in applications such as catheters; invasive/implantable (pacemakers, neurotransmitters); wireless monitors; and electro-surgical (minimally invasive surgery) equipment.
"Medical device manufacturers are operating in an extremely competitive environment where their customers expect ground-breaking products that meet reliability and regulatory requirements, yet still contain costs," said Anthony Kalaijakis, strategic medical market manager, Molex. "Our goal is to help them exceed these demands through our large portfolio of electronic solutions, ranging from microminiature interconnects and printed circuit assemblies to speciality optical fiber and capillary tubing."
One of the company's most significant product introductions is the MediSpec Molded Interconnect Device/Laser Direct Structuring (MID/LDS), which combines advanced MID technology with LDS antenna expertise to deliver integrated fine-pitch 3D circuitry in a single molded package. The technology allows medical device designers to integrate highly complex electrical and mechanical features into compact applications, while meeting stringent medical grade guidelines.
Molex also delivers the following advanced technology solutions to customers:
Temp-Flex Specialty Wire and Cable: specialty microminiature wire, cable and continuous coils using biomedical coating and medical grade base metals. Polymicro Technologies Specialty Optical Fiber and Capillary Tubing: silica capillary tubing and specialty optical fibers, optical fiber end prep and capillary assemblies that are labeled, packaged and sterilized per customer requirements. Affinity Medical Technologies: design and manufacture of custom connector and cable interconnect systems for patient critical applications.About Molex Incorporated
Providing more than connectors, Molex delivers complete interconnect solutions for a number of markets including: data communications, telecommunications, consumer electronics, industrial, automotive, commercial vehicle, aerospace and defense, medical and lighting. Established in 1938, the company operates 45 manufacturing locations in 17 countries.
Source:
http://www.qmed.com/news/supplier/molex-highlighted-its-pioneering-technologies-latest-medtech-devices-biomedevice