Foton, with both production and sales ranking first in the world, is regarded as a leading commercial vehicle manufacturer. In order to fulfill its target of 3 million units of production and sales by 2020, Foton has started rapid expansion across the country. It is learnt that Foton has or will have 18 production bases for complete vehicle and part assembly in 8 provinces and cities. Up till now, it has formed a production capacity of 1 million complete vehicles and matched engines. It will further enhance layout in China.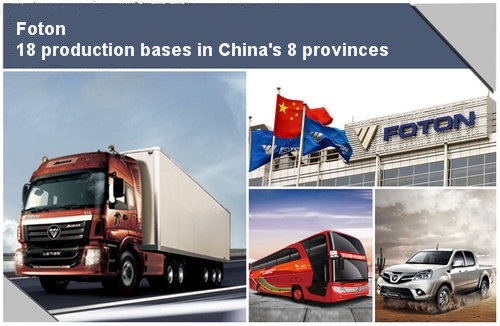 As a Chinese commercial vehicle enjoying the largest scale and widest product range, Foton sets up 18 production bases for complete vehicles and part assembly in Beijing, Shandong, Guangdong, Hebei, Hunan, Hubei, Liaoning and Xinjiang. The four complete vehicle plants and two engine plants in Beijing are equipped with respective management, R&D and marketing headquarters and responsible for products of JV Foton Daimler. Beijing plants are responsible for production of medium and high level trucks, buses and multi-functional vehicles including Oman, Aumark, MP-X, View and AUV. The production capacity has reached 500,000 units. In Shandong province, Foton has three complete vehicle plants and one part plant responsible for production of low-end vehicles including Forland, Ollin and engineering vehicles with a production capacity of 400,000 units.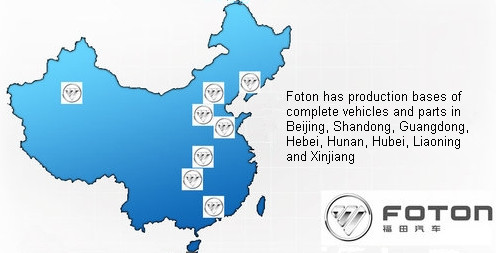 In Guangdong province, Foton has two complete vehicle plants in charge of Forland and pickups with a production capacity of 40,000 units. In Hebei, Hunan, Hubei, Liaoning and Xinjiang, Foton has 4 production bases capable of producing special vehicles like dumpers, tank trucks and tractors as well as engineering vehicles, and two part plants. The total production capacity of the above 18 bases reaches one million complete vehicles and engines.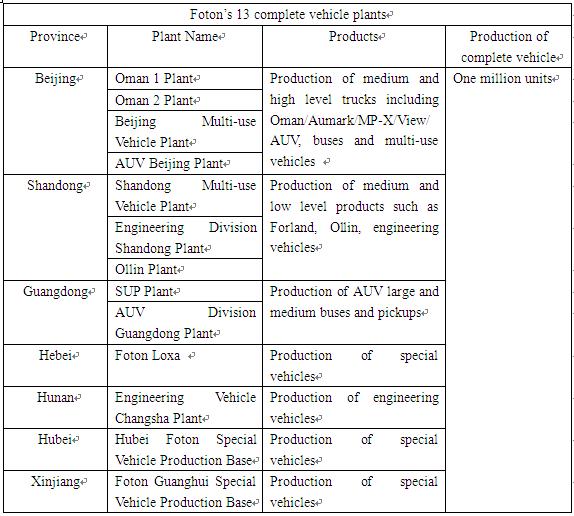 Foton now has nice product series in China. In commercial vehicle field, it has started production of high-level trucks including Oman and Aumark, medium and large buses AUV, medium and high level light truck Ollin, SUP and Tuland. In terms of multi-use vehicles, Foton has started production of MP-X, View and micro multi-use vehicle in Shandong and Beijing. In future, Foton will march towards passenger car market and launch SUV and MPV.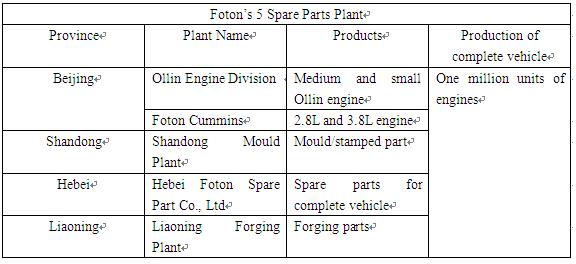 After realization of one million complete vehicles and part assembly, Foton will conduct its "Foton Vehicle 2020" strategy—an objective of 3 million units. In order to achieve this production and marketing objective, Foton plans to construct plants with annual production of 100,000 units respectively in Russia, India, Brazil, Mexico and Indonesia, making 5 overseas plants to have an annual production of 500,000 units. It will establish a global headquarters, a global innovative center and a business management and operation center so as to facilitate its goal of an international comprehensive automotive enterprise.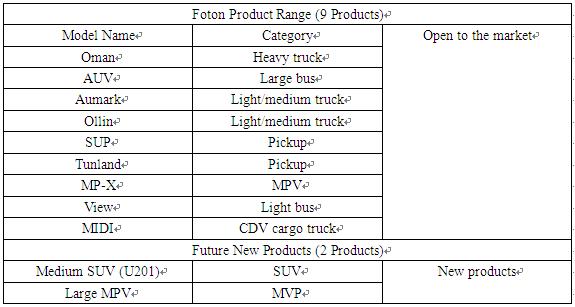 Source:
http://www.chinatrucks.com/news/2013/0905/article_4794.html