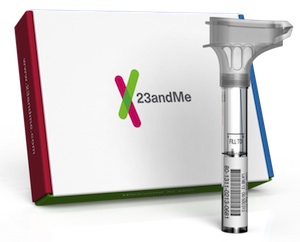 The FDA won't let 23andMe sell its Personal Genomic Service tests to consumers in the United States, but that hasn't stopped the company from selling its customers' anonymous information to other companies for research.
The Facebook- and Google-backed company has landed a $60-million deal to provide cooperative customers' genetic information to pharmaceutical company Genentech for research on treatments for Parkinson's disease. 23andMe gathered the information from 3000 Parkinson's patients and their relatives, who agreed to have their genetic information used for research, the company said in a statement. Genentech is a U.S. division of Swiss drug giant Roche.
23andMe co-founder Anne Wojcicki and her estranged husband, Google founder Sergey Brin, have been quite public about their interest in and support for Parkinson's research. Todd Sherer, the head of the Michael J. Fox Foundation for Parkinson's Research, told the MIT Technology Review me that the couple has donated more than $150 million to the organization. The debilitating neurological disease runs in Brin's family.
Mountain View, CA–based 23andMe was founded in 2006 to sell $99 spit tests to people, who would send back their saliva to be tested for genetic abnormalities. So far, it has collected samples from 800,000, according to a report in Forbes.
Because 23andMe had not received U.S. government approval for this work, the FDA in November 2013 publicly lambasted the company in a blistering letter. The agency accused it of marketing its tests to provide "'health reports on 254 diseases and conditions,' including categories such as 'carrier status,' 'health risks,' and 'drug response,' and specifically as a 'first step in prevention' that enables users to 'take steps toward mitigating serious diseases' such as diabetes, coronary heart disease, and breast cancer."
The agency also issued a cease-and-desist order against the company, and consumers piled on with lawsuits.
In the meantime, 23andMe has been negotiating deals with other companies to work with the data it has collected. Startup Reset Therapeutics of San Francisco announced an agreement to use the de-identified data of 650,000 23andMe customers to conduct research treatment of orphan and other metabolic diseases by restoring normal circadian rhythms to patients. Reset's research team will study the "clock" genes associated with chronotype, sleep, insulin resistance, stress response, and related pathophysiology to identify circadian drug targets, the company said.
Wojcicki plans to announce more such partnerships at the J.P. Morgan Annual Healthcare Conference in San Francisco, Jan. 12-15, according to a report in Inc.
Last year, 23andMe announced collaboration with Pfizer to enroll more than 10,000 Crohn's disease and ulcerative colitis patients in its database to look for genetic clues to the cause of those bowel disorders. The Forbes story said there might be as many as 10 more such agreements in the works.
Source:
http://www.qmed.com/news/how-23andme-won-60-million-its-genetic-info