Metro Supply Chain Group, a leading supply chain and logistics solutions provider in Canada, announced the appointment of William Patterson as the Senior Director of Business Development, Major Contracts. Reporting to Richard Cranwill, Vice President, Business Development, this is a newly created position as the company continues its strategic plan for increased growth in the Canadian market.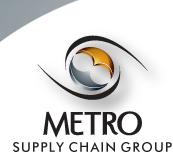 Over the past twenty five years, Mr. Patterson has held key positions within leading logistics and supply chain management companies that include the Remco Group, Exel, Genco, Canada Post, Progistix, and Canadian Pacific Railway.
"This appointment supports our efforts to provide increasingly complex solutions to e-commerce, retail, apparel, and CPG companies throughout Canada," said Martin Graham, President of the Metro Supply Chain Group. "The Metro organizational team being put in place will deliver operating synergies and improved value for Canadian and US multinationals who operate across North America."
"We are pleased to have Bill join our growing team as we continue the expansion of Metro Supply Chain Group in the Canadian marketplace," said Mr. Cranwill. "The broad based experience Bill brings to the table should result in extremely cost effective, customized solutions that immediately produce financial benefits to our customers."
Mr. Patterson is based in the Metro offices in Concord.
Metro Supply Chain Group offers customized supply chain solutions and third party Logistics services (3PL) for retailers, consumer goods manufacturers and specialist industry needs such as: health care, automotive and technology. The company is headquartered in Toronto, Canada.
Source:
http://www.fibre2fashion.com/news/textile-news/newsdetails.aspx?news_id=148168