Toyota is no longer alone in offering a small hybrid wagon-microvan. Ford has rolled out the long-awaited C-Max as a Prius V competitor, boasting more power and fuel efficiency. We just bought one in Blue Candy Metallic Tint.
Based on a platform shared with the Ford Focus and Escape, the C-Max is offered exclusively as a hybrid, producing a combined 188 hp—notably 54 hp more than the Prius V. In testing the Prius V, we noted that its electric motor and engine had to work fairly hard, especially when the car was loaded. More power and efficiency is a welcomed promise.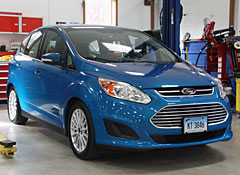 The C-Max uses a 141-hp, 2.0-liter gas engine and a new 1.4-kWh lithium-ion battery to achieve its greater output. Its full-hybrid powertrain gives it the ability to disengage the gas engine at up to 62 mph.
Through elaborate and configurable screens in the instrument panel, Ford gives drivers plenty of energy usage information. The screen to the left of the speedometer has different modes that can show how much gas and electric power the car is using, and how much electricity the regenerative brakes have captured with every stop. For those who want it simple, the right-hand screen will just show leaves on a vine; the more efficiently you drive, the more leaves grow. Mash the gas and they wilt and fall off. While the powertrain works its magic, active noise cancellation effectively isolates the cabin.
In initial drives, we've found the C-Max Hybrid quiet, comfortable riding, solid, and agile in the corners. Power delivery is smooth, linear and plentiful. Access is very easy, and visibility is good. It's pretty comfortable for four; the back seat, though, isn't as roomy as the Prius V's.
We bought our C-Max Hybrid SE from a local dealer for $26,685, with only the winter package, which includes seat heaters, Sync, and dual-zone climate control. Ford is selling the C-Max only as a hybrid in the United States (along with a plug-in hybrid version next year, with a claimed 21 miles of all-electric range).
The C-Max Hybrid is rated at 47 mpg city and highway by the EPA. We'll see if it lives up to those claims as we put it through our full range of fuel economy and performance tests in the coming weeks.
—Eric Evarts
Source:
http://news.consumerreports.org/cars/2012/10/ford-c-max-hybrid-to-pose-a-credible-challenge-to-the-toyota-prius-v.html