Dr. Mark Quarto explains hybrid battery reconditioning technologies to dealers attending at a training session hosted by The Hybrid Shop in Las Vegas.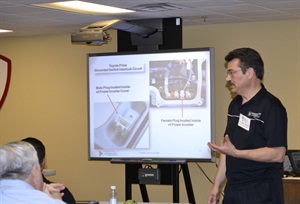 The Hybrid Shop LLC (THS) is growing quickly to keep pace with the hybrid electric vehicle market. Twenty-five dealers joined its service network in the last year. Plans for 2015 include stand-alone franchises, a national warranty plan and a credit card program.
THS shared its plans with more than 40 tire dealers and automotive repair shop owners who gathered in Las Vegas, Nev., on Nov. 3, 2014, to learn about the profit potential of hybrid electric vehicle service.
They met at a Ted Wiens Tire & Auto Service Center outlet for the invitation-only training event hosted by THS. The training included a hands-on demonstration of THS's reconditioning technology, which returns hybrid batteries to 95% of their original capacity.
There are over 8 million hybrid vehicles on the road today, and independent shops don't know how to service them, according to Matt Curry, THS founder and chief visionary officer. "Our research shows that 96% of hybrid owners go back to dealers for service. We want to change that."
Matt Curry grew Curry's Auto Service to 10 outlets in the Washington, D.C. area before founding The Hybrid Shop in 2013.
Curry says THS provides training in hybrid service and repair to independent shops that vehicle manufacturers do not. "If you want to be in business in future, you want to get in hybrid market and electric vehicle repairs," says Curry.
Hybrids make up about 4% of all the vehicles on the road. The hybrid market is expected to grow 10% in 2015 with substantial growth projected for the next five to 10 years. Curry says automakers must turn to alternate technologies such as HEVs to meet government-mandated fuel economy standards.
The Hybrid Shop began franchising hybrid servicing technology, training and marketing support to dealers in the spring of 2013. Curry partnered with Automotive Research and Design LLC (AR&D) to establish THS. The technology and training in high-voltage battery pack charging and conditioning were developed by Mark Quartro, Ph.D., AR&D's chief technology officer.
A new hybrid battery can cost anywhere from $3,500 to $10,000, according to Curry. Battery reconditioning is a third to half of that cost, depending on the car. "You can save customers thousands of dollars for battery conditioning versus battery replacement," says Curry. "It's also much better for the environment because no resources are needed to build a new battery and nothing enters the waste stream."
There are currently 28 dealers in the THS network servicing hybrid-electric vehicles (HEVs), with 10 more set to launch in the next three months.
"Our existing dealers are generating between $20,000 and $40,000 additional revenue a month at 65% to 70% gross profit within three to six months after opening. They pay off the initial investment in six to 12 months," says Curry.
Source:
http://www.moderntiredealer.com/news/story/2014/11/the-hybrid-shop-prepares-dealers-to-service-new-technologies.aspx