North American lighting leader OSRAM SYLVANIA has launched long-lasting, energy-efficient OSRAM ULTRA LED™ MR16 lamps which are true halogen equivalent lamps when comparing lumen output and center beam candlepower. In addition to offering superior light quality, as evident by being selected for the 2015 IES Progress Report because of its industry-leading efficacy and lumen output in its category, the lamps reduce energy consumption up to 82 percent, translating into lower energy costs for businesses and homes. They are currently being tested for Energy Star certification to make them eligible for utility rebates, which can further increase ROI.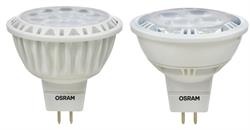 "Previously, LED MR16 lamps on the market couldn't quite offer the same light people were used to from halogen, whether it was the amount of light or where it was delivered," said Alfred LaSpina, product group manager LED, OSRAM SYLVANIA. "This isn't the case anymore though, thanks to our new ULTRA LED MR16 portfolio."
Serving as high quality replacements for 20W-50W halogen products, energy-saving ULTRA LED MR16 lamps use only 6, 8 or 9W to deliver 350, 500 or 700 lumens and 800 to 2600 candelas. Available in 25° and 36° beam angle versions so the illumination goes exactly where needed, they are perfect for accent/display, recessed downlighting and track lighting in art galleries and museums, commercial and office spaces, hotels, restaurants, and residential and retail applications. These LED MR16 lamps are available in GU5.3 base configurations and dimmable down to 10 percent so you can set the perfect mood. The lamps boast a 25,000 hours life (L70), 12.5 times longer than halogen MR16 lamps. This translates into fewer trips up the ladder to replace lights, reducing maintenance costs. The LED lamps have a 3000K color temperature similar to halogen, with CRI ranging between 80 and 90 covering basic to color critical applications. They are free of UV and IR radiation, minimizing discoloration and fading of materials, and are suitable for use in damp locations.
Source:
http://www.ledinside.com/products/2015/11/osram_sylvania_releases_new_led_light_for_halogen_replacement