Teen lifestyle brand adidas NEO Label has released an interactive lookbook to celebrate the launch of its 2013 winter collection and campaign imagery featuring pop/R&B superstar Justin Bieber.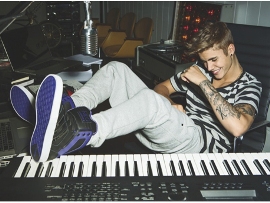 The interactive lookbook is made up of five short film scenes starring Justin Bieber. The first of these five films will be made available at launch, but in order to unlock more exclusive content, fans must show their love for Justin and NEO by sharing the scene with their friends.
The more that fans interact, the faster the remaining four scenes will be unlocked. The scenes will be released one by one, until the full lookbook is viewable. Fans can also purchase items from the collection as they appear in the scenes.
For Justin it's all about the music and the NEO lookbook showcases this. NEO's global style icon rocks a mature, edgy and confident style, while creating music and 'living his style'. Keeping things casual, the lookbook shows Justin playing with drumsticks, writing lyrics and hanging out in a musically inspired setting.
Justin Bieber commented: "Living your style is about being who you are and showing your own creativity, and for me that's what NEO is about. It's about every teenager working a different look and showing off their own unique style! I love fashion that's authentic and all about the individual, just like my music."
Justin wears his favourite pieces from the new range in the latest NEO campaign imagery. He dresses in a flannel shirt with an exaggerated check patern and faded drop crotch denim pants with a worn-in feel. He completes his mature, relaxed look with a pair of collegiate red suede skate inspired sneakers.
Claire Midwood, Vice President adidas NEO Label said: "The interactive lookbook brings to life the spirit of NEO, while showcasing the new winter collection. Justin is the perfect style icon to communicate the energetic feel of the range, and fans will be excited to unlock the films for an insight into Justin's life behind the scenes."
Source:
http://www.fibre2fashion.com/news/apparel-news/newsdetails.aspx?news_id=154031