U.S. specialty jewelry store sales fell 5.4 percent year on year to $2.72 billion in February, according to government calculations. The sales decline was much more severe than preliminary totals for jewelry and watch sales across all channels, which fell only 0.2 percent in February to $6.188 billion. Total jewelry and watch sales are subject to several revisions in the months ahead.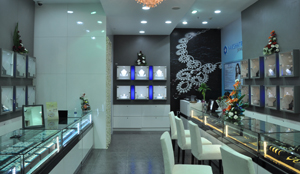 During the first two months of 2015, specialty jewelry store sales have fallen 5.8 percent year on year to $4.673 billion.
Meanwhile, advanced estimates for U.S. retail sales in March -- excluding motor vehicles and parts -- were also disappointing, rising just 0.5 percent year on year to $346.7 billion. Retail trade sales were even dramatically subdued, rising 0.5 percent. Department store sales in March, continuing what has become a two-year long stretch of slow and steady declines, fell 2 percent to $12.95 billion.
Thomas Costerg, an economist at Standard Chartered Bank, told Bloomberg News that the data reveals how much the U.S. consumer remains cautious and unwilling to go on a shopping spree. Still, he anticipates consumption will improve as the year progresses.
On a positive note, overall retail sales in March, as measured on month-to-month, posted the strongest gain in 12 months and ended three consecutive monthly declines. Chris Williamson, the chief economist at Markit, noted the data offered some evidence that the U.S. economy was pulling out of a "soft patch," and improved consumer spending increases the likelihood that policymakers would vote to hike interest rates later in the year.
The National Retail Federation (NRF) concluded that the March retail report was "a welcome improvement" following weak sales in January and February. NRF's chief economist, Jack Kleinhenz, said, "Both the composition and the magnitude of March's rebound show that consumers are dipping back into their discretionary budgets and spending on both hard and soft goods; several business lines in March show signs of improvements."
An early Easter, which fell on April 5, played into seasonal sales late in March and offered some lift to retail sales, he noted. "Though consumers will continue to spend on a selective and price-sensitive basis, we expect a stronger second quarter with steady improvements in job and income growth," Kleinhenz said.
The NRF noted that furniture and home furnishing sales jumped 4.1 percent year on year, while electronics stores sales rose 2.7 percent. Building materials, supplies and garden equipment store sales increased 8.6 percent, clothing and clothing accessories stores sales rose 3.3 percent and non-store retail sales improved 6.6 percent.
Source:
http://www.diamonds.net/News/NewsItem.aspx?ArticleID=51964