ROHM of Kyoto, Japan is to provide full-SiC (silicon carbide) power modules to the VENTURI Formula E team during season 4 (2017–2018) of FIA Formula E (the world's first formula racing championship for all-electric vehicles), which will start on 2-3 December in Hong Kong. The module will support further improvements in the machine's performance under racing conditions.
ROHM became VENTURI's official technology partner in season 3, and provides SiC power devices used in the inverter (the core of the electric vehicle powertrain). The inverter for season 4 features an embedded full-SiC power module, making it 43% smaller and 6kg lighter than the inverter for season 2.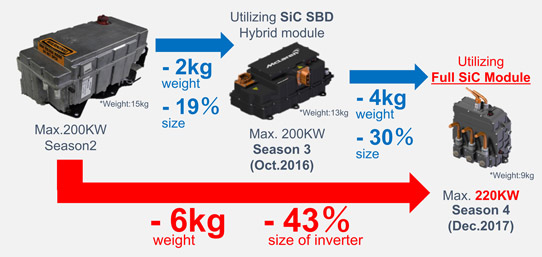 After being inaugurated by the FIA (Fédération Internationale de l'Automobile) in 2014, the Formula E series has expanded to cities worldwide, including metropolises such as Hong Kong, Berlin and New York. The advances in Formula E technology are expected to filter through developments to general-use electric vehicles. Although still in its infancy, Formula E already enjoys the participation of automotive manufacturers from around the world, and major automobile manufacturers including those from Japan have declared their intention to join the championship.
"Formula E is the only motorsports event for testing the latest technology in next-generation electric vehicles," comments VENTURI Formula E Team's chief technology officer Franck Baldet. "We are extremely happy about our technical partnership with ROHM in the area of power management, which is the foremost key to the Formula E race," he adds. "For season 4, by adopting a full-SiC power module, we were able to bring to reality a lightweight inverter that requires only a minimum amount of space."
"Semiconductor devices are certain to play a crucial role in recent hybrid and electric automobiles," says Kazuhide Ino, group general manager of ROHM's Power Device Production Headquarters. "The SiC power device that we are providing for the Formula E racing car is one example. We provided SiC-SBDs in season 3 last year (2016–2017), but this year we provide full-SiC power modules that combine SiC SBD and SiC MOSFET. These modules will contribute to improve vehicle performance."

The SiC power module used in the inverter of the VENTURI Formula E team racing car achieves large power throughput due to the development of a new package with an improved internal module structure, as well as an optimized thermal management. Compared to conventional insulated-gate bipolar transistor (IGBT) modules with similar current ratings, the module reduces switching losses by 75% (at a chip temperature of 150°C), aiding energy efficiency for the whole application. Also, having more compact peripheral components throughout the high-frequency drive, as well as the effect of reductions in switching losses, also contributes to a more compact cooling system.
Source:
http://www.semiconductor-today.com/news_items/2017/dec/rohm_041217.shtml