The PC industry has recently started regaining momentum with Intel, AMD as well as Taiwan-based upstream component suppliers aggressively preparing for potential demand in the second half of 2014, according to sources from the upstream supply chain.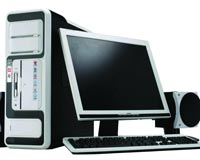 In addition to a recovery in notebook demand, desktop sales are also expected to rise. Intel is optimistic about enterprise desktop demand and has increased its resource investments for enterprise platforms.
AMD has also recently launched several new processors including high-end Volan, mainstream Kaveri and entry-level Kabini and Beema, and has also been seeking support from motherboard makers and first-tier brand vendors such as Lenovo to compete in the gaming and enterprise markets.
For the notebook industry, Intel will cooperate with several first-tier notebook vendors to release price-friendly 2-in-1s in the second half and will release a fanless 2-in-1 design featuring its 14nm Core M processor by the end of 2014.
In the first quarter of 2015, Intel will release its new entry-level Braswell-based processors to replace its existing Bay Trail-D series.
As for chipsets, Intel will announce next-generation products in May or June 2015.
Intel's new SoC platform for entry-level smartphones and tablets is expected to become available in the fourth quarter and the company will release the quad-core SoFIA LTE chip in the first half of 2015.
Source:
http://www.digitimes.com/news/a20140702PD212.html