International chain of convenience stores 7-Eleven has added new kolaches, a savory breakfast offering, to its fresh foods menu.
Available at 450 7-Eleven stores in the greater Dallas-Fort Worth, Austin and San Antonio areas, the new offering is available in two varieties - Pork and Beef Sausage, and Pork and Beef Sausage with Jalapeno and Cheddar.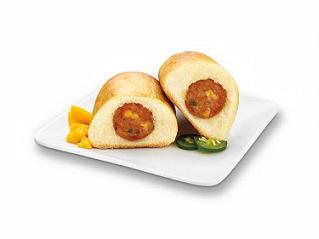 7-Eleven's kolaches are heated and served warm from the Hot Foods Case. The product was initially available in 50 Texas stores as a test.
Each 4-oz kolache sells for a suggested retail price of $1.69, or two for $3.
7-Eleven Fresh Food Innovation vice president Kelly Buckley said Kolaches are so popular in Texas, and this new item gives the customers another portable, hot breakfast choice.
"One challenge was to make sure the kolache remains tender. We worked on several iterations to ensure the dough was soft, tender and light," Buckley added.
Image: Pork & Beef Sausage with Jalapeno and Cheddar. Photo: courtesy of PRNewsFoto/7-Eleven, Inc.
Source:
http://savorysnacks.food-business-review.com/news/7-eleven-adds-kolaches-to-breakfast-range-020514-4256761