July 26-- Liu Zhenya, Chairman of Global Energy Interconnection Development and Cooperation Organization (GEIDCO) and China Electricity Council (CEC) held in-depth talks with visiting Reinhard F.Huttl, Acatech President and Vice President of Helmholtz Association,on promoting Global Energy Interconnection (GEI) and deepening international energy cooperation.Opinions were exchanged and consensuses were reached.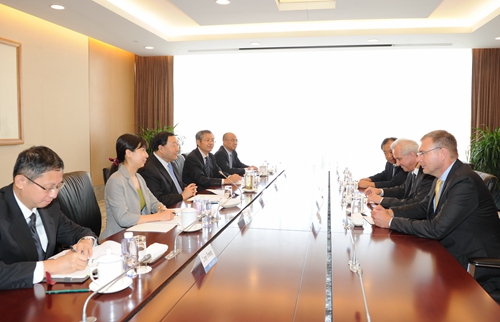 Liu Zhenya gave a briefing on related work regarding Global Energy Interconnection (GEI) .He pointed out that the essence of GEI was "Smart Grid + UHV + Clean Energy",in which, smart grid is the foundation,UHV is the key and clean energy is the priority.He said GEI and two replacements (clean energy replacement and electricity replacement) could speed up the transformation of energy and power development and utilize the differences of time zones, seasons and tariffs to facilitate optimal allocation of resources around the globe and fundamentally solve issues like resource constraints,environmental pollution and climate change. Liu mentioned that along with innovative breakthroughs in UHV technologies,rapid enhancement in clean energy's economic performance,and the gradually formed international consensus,GEI was technologically and economically applicable.Liu emphasized that Acatech had obtained a lot of world-class major achievements as an internationally renowned academic and scientific research institute.These technologies were important and could be applied in GEI construction.Liu expressed his hope to strengthen the cooperation with Acatech regarding technological R&D,think tank construction and concept awareness,tackling key problems and technologies and promoting GEI together.
Huttl fully agreed with Liu's points of view.Seeing the inevitability for the renewables to replace fossil energy,he also acknowledged China's impressive achievements in grid construction,optimal allocation of energy,and renewable energy development.He added that GEI had a great potential as it could realize energy interconnection and promote clean transformation.Since Acatech and the Helmholtz Association had been closely following the conversion and drive between science and industry and had resources like experts,energy research teams, and corporate members,Huttl said the two institutes would play their role as platforms to organize related research and strengthen the cooperation with GEIDCO and State Grid Corporation of China (SGCC) to promote GEI,speed up energy transformation and push for human society's sustainable development.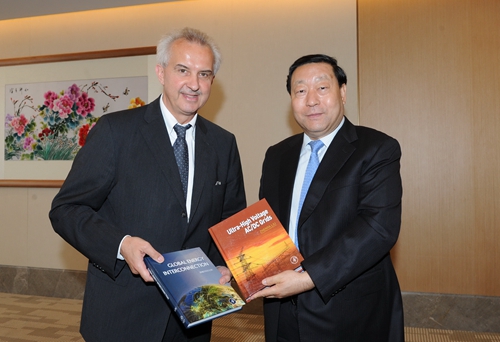 Before the meeting,the delegation led by Huttl visited the GEI exhibition and the National Power Dispatching & Control Center.GEIDCO Secretary-General Wang Yimin and representatives from GFZ,Helmholtz Beijing Office,GEIDCO and SGCC attended the meeting.
Source:
http://www.sgcc.com.cn/ywlm/mediacenter/corporatenews/07/334907.shtml