Although it may be an easy choice to decide that outdoor furniture is a necessity for your backyard, garden or patio, it may be a lot harder to consider which material to choose for these items. Everything from aluminum to wood is used to make garden furniture, and each has their advantages and disadvantages. Let this guide help you decide which material is best for your outdoor space.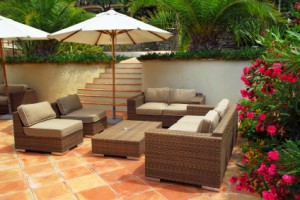 Wooden Furniture
The natural beauty of wood is often what draws homeowners to purchase the material. It can seamlessly blend an outdoor living space with nature thanks to an attractive grain and warm coloring. However, the color will often fade and it does require maintenance in the form of sanding and refinishing every few years.
Plastic Furniture
The primary motivator for this kind of furniture is budget. It will almost always be the cheapest outdoor furniture and usually also the easiest to maintain. However, it can easily be destroyed or even blown away as it is so light.
Wicker Furniture
This is a popular choice in tropical outdoor spaces, as wicker outdoor furniture imparts a unique island vibe. It is easy to maintain, although may be uncomfortable, requiring cushions for the seats.
Each of these exterior furniture materials is a great choice, so pick the one which best suits your location and personal tastes.
Source:
http://www.directoutdoorliving.com/blog/2012/03/05/which-material-is-best-for-outdoor-furniture/