It is self-evident that stationery industry in China has great potential, there is news points out that the stationery consumption will keep more than 10% year-on-year growth, growth are significantly higher than the current total retail sales of social consumer goods, a conservative estimate to the domestic market: expansion speed is at about 15% in 2015,it will be far more than the export market, the future prospect.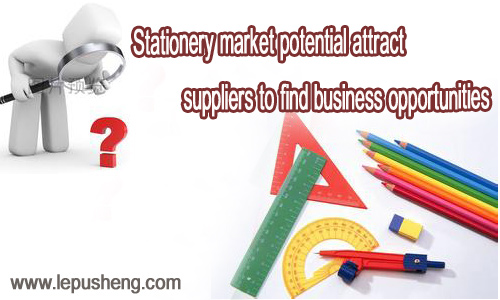 Huge consumption potential in stationery, not only let lot of stationery suppliers in China rushed to make a domestic market, at the same time it is also a "big cake" for overseas suppliers, a lot of brand stationery also break into it. Stationery industry experts believe that the arrival of the new era of consumption, it is good news for stationery in domestic market.Expert introduced, the international experience shows that when the per capita disposable income is more than $3000 ,then the social consumption will pay more attention to quality and brand.China's stationery industry is entering the new stage of this consumption.
Compared with overseas suppliers.China stationery suppliers have low production cost, product quality reliable, and also have the advantages such as relevant national support, however, by contrast, domestic stationery industry is much less than the foreign brands on the construction of brand.With the development of the stationery industry, more and more stationery enterprises began to realize the importance of the enterprise brand construction, however, brand construction is not achieved overnight.If we want to compete with the existing brand, especially overseas well-known stationery brands, the domestic manufacturers have a long way to go.
Domestic suppliers has a certain advantage, but in the years of doing OEM for others and let their own brand suffer into the dilemma, they have the quality of the product ,product advantages of supply chain, but can not get public praise of the masses.We can say in terms of price, the sales network,domestic stationery has innate advantages, while foreign stationery brand is good in quality and design, so in addition to the brand construction,development potential of stationery enterprises also affects the go like in the future.
From the stationery exhibition in recent years,it can be seen in the stationery industry development,consumption potential of China has attracted the eye of overseas investors, rushed to come also began to grab profits at home.Make the profit space of the fierce stationery market have a compression.Fortunately, in the industry there is a mass of people with lofty ideals to create real Chinese stationery brand, and make international reputation.So in the future there will be a double bloom like now.Regardless of the development of the brand at home and abroad,it is expected to do big and better stationery market in China, to bring more choice for Chinese consumers .
Source:
http://www.lepusheng.com/news_detail/newsId=90ecaa08-d84d-4bfc-bda5-f56bde7569db.html