Just before Christmas, NSW Premier, Mike Baird, and the Environment Minister, Rob Stokes, wrote to the National Packaging Covenant Industry Association (NPCIA)'s chairman, Grant Musgrove, and Coca-Cola Amatil managing director, Barry O'Connell, stating that the government favoured the introduction of a state-based container deposit scheme. It stated that the beverage giants need to make a "far greater commitment" to reduce packaging waste litter and boost recycling and invited the industry to get on board to clean up NSW's parks, beaches and rivers. The Baird government had obtained independent advice that showed a container deposit scheme "will be cost effective and efficient".
The decision will not be universally applauded. The battle to get to a container deposit scheme in NSW has been a ferocious fight on several fronts. Environmentalists, beverage companies and the packaging industry have all been involved. The publication of the diaries of NSW cabinet ministers in November showed some outrageous tactics used. On December 20, the Australian Beverages Council had threatened to run attack advertising against the Baird Government during the March election if cabinet voted in favour of a container deposit policy.
The decision to go ahead comes after City of Sydney's recycling initiatives in July - two reverse vending machines and an ambient awareness campaign, the success of which was announced in November.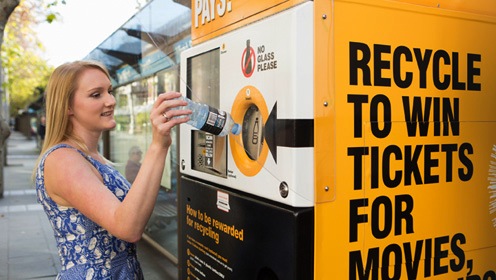 This stirred the pot. Coca-Cola Amatil met with Stokes about litter reduction in July. Two weeks later, Lion Nathan and CUB met with Baird. Stokes then met separately with recycling companies, and Keep Australia Beautiful (funded by Coca-Cola and an opponent of container deposits). Baird and Stokes then met Clean Up Australia, Greenpeace and the Boomerang Alliance.
In late November, the NPCIA submitted its own recycling proposal to the NSW government. It was rejected for lacking clear governance arrangements, for not being adequately specific and for not having the level of long-term funding required to achieve sustained behavioural change.
The Northern Territory introduced a cash for returns scheme four years ago. In its first 12 months, an extra 35 million containers were returned. But in 2013 Coca-Cola, Schweppes and Lion Nathan challenged it – successfully. They argued the legislation was illegal under Commonwealth law because it required different production processes for the same product in different states and territories. Their win was brief.
Ian Kiernan, chairman of Clean Up Australia, described what happened next. "Last week the Northern Territory container deposit scheme got back on track after all states and territories united to close the loophole created by Coke's federal court challenge. It's only fair Coke and its allies now repay the costs that were forced onto Northern Territory taxpayers. [Representatives of the Total Environment Centre, Clean Up Australia and Greenpeace delivered a mock invoice for $6 million to Coca-Cola's North Sydney headquarters: ed] The success of the Northern Territory scheme is beyond doubt, with recycling rates trebling to 67% during its first year of operation, stimulating new investment and jobs."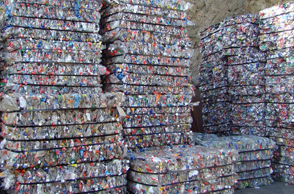 As a result of the Federal Court decision, the Northern Territory government was forced to financially support the cash for containers scheme and pay the 10 cent deposit at a cost of $1 million a month, after beverage companies stopped supporting the scheme. Eventually the Federal Executive Council gave the Northern Territory's scheme permanent exemption under the Commonwealth's Mutual Recognition Act, which meant that beverage companies had to repay deposits of 10 cents a bottle or can recycled through the Territory system as before. Coca-Cola Amatil stated that it would raise prices of its products to cover extra costs.
But 82% of Australians favour a cash for deposits scheme. Baby Boomers remember returning soft drink bottles to corner stores for a small cash deposit as kids. The glass bottles were re-used. They also remember when drink cans could be returned for cash.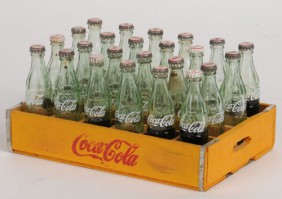 Under the NSW scheme, schools and charities will be encouraged to raise funds by collecting containers for cash (expected to be set at 10c). Beverages companies will be allowed to increase drink prices by the amount of the deposit, and only need to pay the deposit on redeemed containers.
Reverse vending machines will be located in public places and community recycling centres will be set up to collect glass, plastic and cans of the sizes most often consumed away from home. The machines have a capacity of 3000 PET bottles or cans, automatically crush the containers, and don't allow non-recyclable rubbish to be deposited. Contamination hampers many local council recycling efforts.
Source:
http://www.packagingnews.com.au/news/nsw-will-get-cash-for-containers