The state of the trade continues to be reported as positive, but less so than in the previous two quarters. Confidence has been resolutely positive since the start of 2013, and respondents had previously improved their reports further throughout 2014, with actual levels consistently riding above forecasts throughout the year. However, the actual performance reported for Q3 saw only 40% claiming that the state of trade had improved and 2% reporting that it had worsened (with the remaining, 59% claiming that there had been no change), producing a more modest positive balance of +38, significantly below both the +85 forecast for the quarter and the +86 actual balance recorded for Q2.
However, 'no change' on previous positivity means continued positivity and as the chart below shows, the vast majority of respondents predict a positive forecast balance for Q4 2014, in which as many as 82% expect there to be a further improvement and only 1% fear a decline, producing a positive net balance of +81, which is in line with the previous forecasts.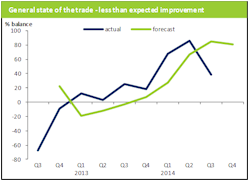 The actual balance of +38 was well below both the prediction of +85 for Q3 and the actual performance of +86 in Q2. However, a return to optimism sees a more positive balance of +81 being forecast for the coming three months.
The 'top three business concerns' expressed by respondents remain unchanged: the most cited was 'Survival of Major Customers' (56%, compared to 41% in Q2), followed by 'Competitor Pricing' (48%, compared to 53% in Q2) and, in third place once again, 'Access To Skilled Staff (30% in both Q2 and Q3).
Some threats appear to have diminished significantly in Q3: 'Paper Cost/Prices' is a concern for only 11% of respondents now (compared to 29% in Q2), and fears about the 'Survival of Major Suppliers' has also decreased from 27% in Q2 to 11% currently. The only issue to register a significant increase in citations this quarter was 'Late Payment by Customers'; this was noted by only 10% in Q2 but by as many as 21% in Q3, suggesting that this is a widening problem.
Kyle Jardine, BOSS Research Manager, said:
"BOSS Outlook is a relatively new survey of the state of trade in the office supplies and services sector – it has been running for just over two years now. However, in this time it has developed into an important resource for those involved in the industry. It should be required reading for those industry executives that care about the business climate in which their firms are operating. The current report has a lot to offer – in particular on costs, investment and pay reviews – and sits well alongside the detailed product sector BOSS/GfK Market Tracking reports that are also available to BOSS members on our website."
Summary of key findings:
Business confidence remained positive in Q3, but less so than in the previous two quarters; expectations are that the general state of trade will improve in Q4. Sales volumes took a turn for the worse in Q3; the Q4 forecast is for relatively subdued growth. Output growth nosedived in Q3 and is expected to be flat in Q4. The survival of major customers was the most voiced business concern, followed by competitor pricing and access to skilled labour. Employment levels continued to decline in Q3; a trend expected to persist in Q4. Average prices improved in Q3 but are forecast to slip slightly in Q4. Employee and distribution costs showed some increases, whilst energy exhibited some decreases; cost expectations, with the exception of rising staff costs, are subdued. After a long period of shrinkage average stock levels have levelled off; stock turn improved in Q3. Margins continued to be positive, just; the forecast for margins remains negative. Investment intentions over the next 12 months are strong. The level of bad debt is a concern but the incidence of late payment appears to have stabilised.
BOSS Outlook is BOSS Federation's quarterly office supplies & services industry trends survey. The report contains analyses of the industry's latest trends, with quarterly forecasts and data analysis on sales, output, business confidence, employment, prices, costs, stock, margins, profits, productivity, investment, financing and credit conditions, pay reviews, and original branded printer cartridges.
Also in BOSS Outlook this quarter:
UK headline economic data. CBI forecasts and assessment. Paper sector consumption statistics from the Confederation of Paper Industries and a graphic paper price index from PPL Research Ltd. Comment on the energy sector from Schneider Electric. Advertising sector data and analysis from the Advertising Association / Warc Expenditure Report and the IPA Bellwether Report.
Source:
http://www.officesuppliesnews.co.uk/news/confidence-dips-as-sales-growth-hits-a-lull-industry-outlook-remains-positive-despite-subdued-forecasts/#respond