Switzerland-based manufacturers of injection molding machinery and system solutions, Netstal, will be launching its new PET-LINE 5000 in the US market at NPE.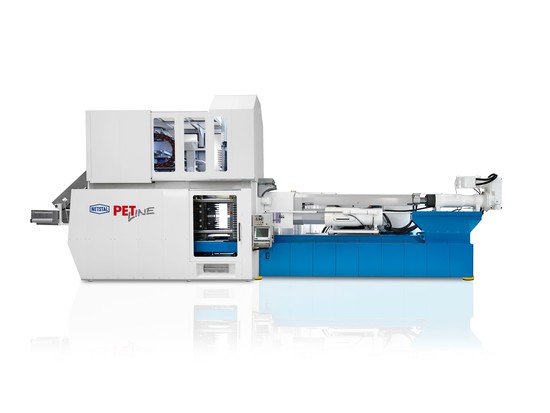 The equipment has been designed for markets with high output and for molds with 96 to 144 cavities.
The PET-LINE 5000 is also capable of decreasing the power need by around 10% when compared to its preceding model.
It offers several first-rate changes in the areas of energy consumption, control technology and machine control including an energy-efficient adaptive drive unit.
In place of constant pump pressure, the equipment adapts to individual application and cycle requirements.
All the electrical drive motors in the machine are interconnected through an intermediate circuit that lets the generated braking energy to be used in other places.
Netstal has also succeeded in reducing the lock-to-lock time of the machine by around half a second which can mean an increased output performance of thousands of units per day for applications with cycle times of less than 10 seconds.
The equipment uses digital controllers which help in reducing reaction times and increasing oil displacement to make the movement of the mold swifter.
It also features a custom-developed robot that can move into the mold without it being open completely.
Sales manager of the PET business unit of Netstal Reto Bamert said: "High output levels are especially needed in these large beverage markets. Our customers there are generally large bottling plants that require a calculable number of bottle variations, but in such vast quantities that using a 144-cavity preform mold is justified.
"In these regions, our systems are horizontally integrated into the production process; we see, for example, our product lining up directly alongside a blow-molding machine."
Source:
http://machineryandequipment.packaging-business-review.com/news/netstal-launches-pet-line-5000-in-us-250315-4539347