LED Lighting Industry in Emerging Markets Analysis (Japan)
Affected by the 311 earthquake, there has been a surge in demand for LED lamps in Japan. LED light bulb sales in Japan in December 2011 rocketed up by 63 percent compared to the same month in 2010, and in the case of ceiling lights number was up 58% over the same month of previous year.
During the Fourth Next-generation Lighting Technology Exhibition organized by Reed Exhibitions Japan (Lighting Japan), Toshiba director and LED Business Minister Koji Sato said the original estimate of Japan LED light bulb market size was about 22 million lights, but the 311 earthquake had accelerated the popularization of LED lighting, LED bulbs sales in the last year was up to 31 million, with an increase of more than 40%. In 2011, the monthly sales of Toshiba LED bulbs rose from 2.8 million in June, to 4.8 million in December, and the annual growth rate had as much as three-fold.
Japanese retail research firm GfK Japan revealed the sales data of 4,000 home appliance hypermarkets, which indicated that in December 2011, Japan LED light bulb sales rocketed up by 63% compared to the same month in 2010, accounting for 37% of the whole bulb sales, a new record since July 2010.
Chinese LED lamps Export data for Japan in 2011(HS:94054090)
Month

2011

Year on Year(±%)

Quantity kg

Amount USD

Quantity

Amount

Jan.

638,515

19,663,805

36.8

139

Feb.

414,894

17,165,581

5.5

128.8

Mar.

562,440

19,134,138

21.3

79

Apr.

764,519

23,716,693

41.5

100.2

May

846,240

25,114,555

37.5

59.6

Jun.

1,034,225

41,989,598

64.9

148.7

Jul.

1,350,194

57,733,000

110.8

236

Aug.

1,540,611

76,737,827

193.5

388.7

Sep.

1,469,497

78,203,979

108.5

303.7

Oct.

1,361,027

70,289,753

77

261.7

Nov.

1,381,565

72,938,398

104.3

247.2

Dec.

1,133,517

48,562,594

68.9

108.4

Total

12,497,244

551,249,921

76.2

195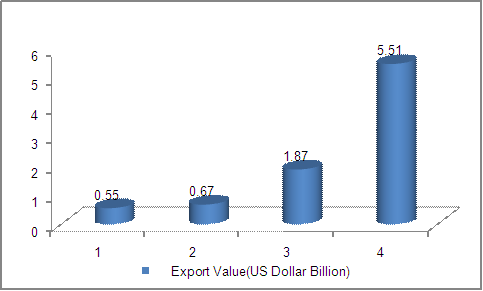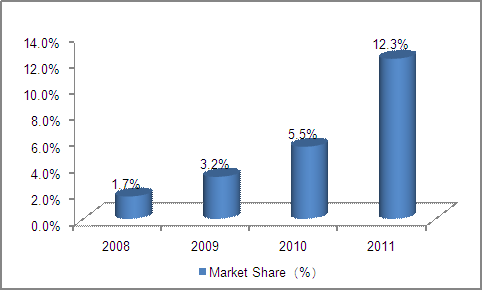 Source:
IAR Team from Made-in-China.com