Bosch Packaging Technology will be showcasing its new exterior washing machine RAN 3080 for vials, ampoules and cartridges at Achema 2015.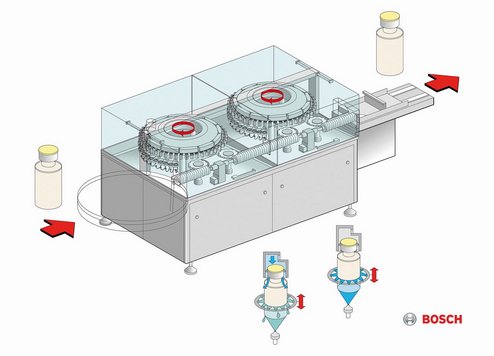 The machines use a newly developed, high-pressure cleaning process for removing product residue and other contamination from filled and closed glass containers.
Bosch has also developed the transport system that grips the containers at the closure, cleaning the entire container efficiently.
The machine comes with a rotary platform for cleaning and an identical rotary platform for drying.
Bosch Packaging Technology product manager Tobias Gttler said: "With the RAN 3080, we are consistently expanding our product portfolio for processing and filling of liquid dosage forms.
"By combining the new exterior washing machine with our numerous other solutions, we can design a flexible line concept."
The machine is claimed to be efficient in removing process-related contamination which could affect the health of a patient adversely.
Its cleaning station has been equipped with newly developed ring nozzles that operate with high pressure, which helps in washing the containers from top to bottom.
The continuous flow of pressurised air across the closure caps helps in preventing moisture from getting to the closure rim and into the containers.
The machine comes with three different working stations and can use up to three different media per cycle.
"By combining the high-pressure process with an efficient transportation system, the new development allows for a residue-free cleaning of up to 400 containers per minute for the first time.
"Due to its residue-free cleaning and hygienic design, the RAN 3080 also complies with the high requirements for manufacturing highly potent pharmaceuticals, such as cytostatic drugs," added Gttler.
Source:
http://www.packaging-business-review.com/news/bosch-to-showcase-new-exterior-washing-machine-for-pharmaceutical-companies-270315-4541881